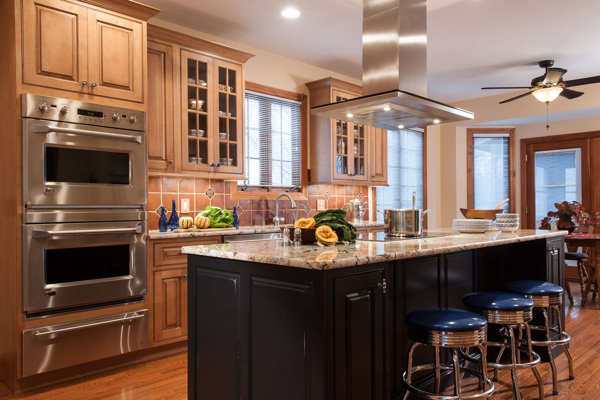 Let's Talk!
At our first meeting, we will have the opportunity to get to know one another. Our objective is to listen to your wants, needs and expectations and to let you know how we do things. We want you to feel comfortable asking questions as well. We will discuss project scope, budget and timeline. It is important for all decision-makers to be present, so everyone has input from the beginning. Once we determine that we are a good fit, and you are comfortable with the scope and budget, we move on to Step 2.
Getting Started
In our many years in this business, we have learned that no one likes surprises, no matter what stage in the process. From the beginning, we strive to clarify as many details as possible. The traditional method of making decisions about design, product and pricing is clouded with uncertainty. Allowances and "guesstimates" often result in disappointment. Our aim is to qualify and specify the details up front. In order to do this, we execute a 'Project Development Agreement'. This initial commitment means that we are a good fit, and want to work together in designing a project within a budget that you are comfortable.
Project Development
This is what makes us different. We work with our quality craftsmen, trade partners and vendors to 'build your project' before hammer hits the nail. We make site visits with our team to get input and address any potential challenges. While we are doing this, you shop to make selections- cabinets, appliances, flooring…..whatever your project needs. Sound overwhelming? We make it fun! With our Selections Coordinator holding your hand and guiding you with sound advice on function and style, your project begins to blossom into a well-defined project.
Construction Agreement
With construction plans and product selections made, our team reviews everything and presents a detailed set of project specifications. This includes a set price, payment schedule, project timeline and project scope. This moves the venture from concept to reality. With all decisions and selections made and defined, construction delays are kept to a minimum, and we are ready to start your project!
Pre-Construction Meeting
Prior to the start of your project, the LCC team will meet at your home to talk through the details as needed. Your Project Manager will also be on hand to let you know what to expect- work hours, project schedule, and the like. We will also discuss placement of materials, dust protection, job site security, and so on. We build your project on paper, discussing the entire process and answering any questions you may have before construction begins.
Construction Underway
Our crews and trade partners are not only tops in the business, but you'll also find them personable and helpful. Respecting your property and lifestyle are a constant. We do our very best to ensure your project not only is well-built and blends in seamlessly with your home, but also to make it as pleasant as possible! Successful remodeling projects are the result of constant communication and a mutual trust between you and your contractor… another thing that sets us apart!
Project Completion
As your project nears completion; your Project Manager will schedule the cleaning crew and final inspections. We will walk the new space, orient you with the new features, and address any last-minute details. A project binder will be presented, which houses all of the important information from your project- product information, care and maintenance instructions, and documentation from Liston Design Build- such as record of payment schedule, product selections and certificate of completion.
Enjoy!
Now that your project is complete and your 'guests' have checked out, sit back and enjoy your newly renovated space! You should be congratulated for improving the value of your home and enhancing your space and lifestyle!
If you are interested in talking with us about your home remodel, call us at 636-940-9417.