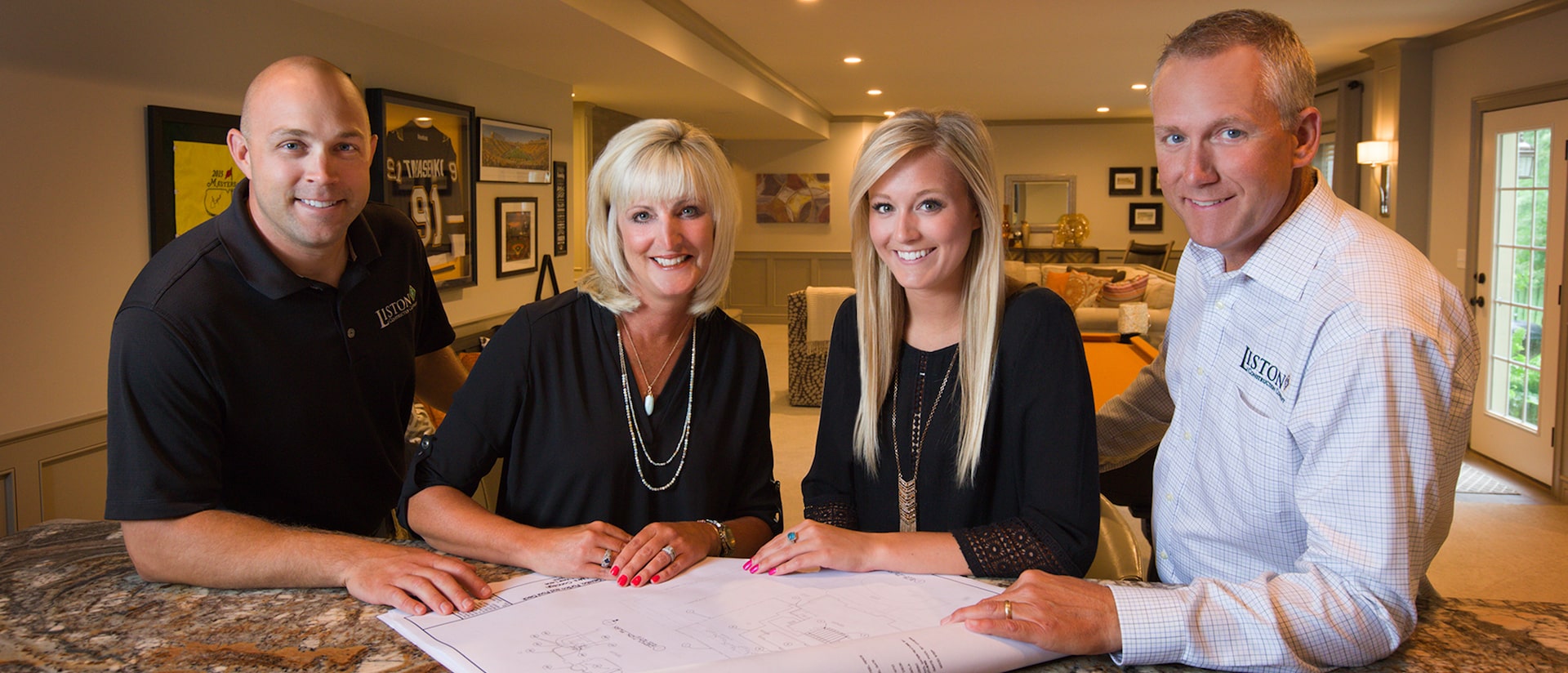 Our Team
Since 1984, the Liston Design Build team has been offering first class remodeling services to St. Louis and surrounding areas. Learn more about our story here.

Keith Liston, Owner
Keith has been the President of Liston Design Build since taking over the business from his father in 2009. As an engineering student in college, Keith began working for his father to pay for school and, to his own surprise, ultimately found himself drawn to the family business and the chance to combine his and wife Jeanne's expertise into a new vision for the company. Over a decade later, Keith now spends his days overseeing that vision and ensuring that Liston Design Build is always delivering an unparalleled experience to clients. You'll usually find him meeting with prospective clients, developing new projects, and checking in on the progress of ongoing projects to make sure the client's vision is coming true. For Keith, the true mission of Liston Design Build comes down to a piece of advice his dad once gave him: if you take care of people, they'll take care of you. Whether that means perfecting a client project or building a supportive culture for his team, Keith's focus is on leading Liston with honesty and compassion. When he's not at the Liston helm, Keith loves nothing more than spending time with his wife, Jeanne, their 4 children and spouses, and grandchildren. When not hanging out with family, you can find Keith on the golf course.
Jeanne Liston, Owner
Jeanne is an Owner of Liston Design Build and handles the company's marketing, business, and team development. After working in the custom home building industry for nearly a decade, Jeanne joined the Liston team in 2009, when she and husband Keith decided to take over his family's business. Now, Jeanne spends her days visiting job sites and product showrooms as she helps clients navigate design choices, communicating with clients and internal teams, and ensuring that every Liston client has a great experience. Jeanne also oversees marketing initiatives and works to continue building Liston's supportive, familial company culture. In addition to the amazing team she is surrounded by, Jeanne's favorite part of her job is seeing a project improve not only a client's home, but their lifestyle. When she's not working to ensure a great experience for Liston employees and clients, you can almost certainly find Jeanne enjoying time with her family – husband Keith, 4 children and spouses, and grandchildren – whom she refers to as both her "everything" and her greatest personal achievement.
Andrea Liston-Jones, Director of Design
Andrea is Liston Design Build's Director of Design. She joined the company in 2016, while she was pursuing her degree in Architectural Studies and Interior Design and decided to bring her creative energy into the family business. Andrea loves working hand-in-hand with clients to revamp their spaces and inject their personalities into their home design. This involves everything from selecting materials to visiting job sites to creating design renderings and construction documents. For Andrea, the best part of her job is building friendships with her clients that enable her to find the perfect balance of form and function to fit their lifestyle. When it comes to making a client's design dreams come true, Andrea's motto is "don't be afraid to think – or go – outside the box!" Her desire to build relationships as meaningful as the designs she implements is reflected in her NKBA Certified Kitchen and Bath Designer accreditation. Andrea was born and raised in St. Charles and now lives there with her high-school-sweetheart-turned-husband and their Goldendoodle puppy. When she's not visualizing the next client project she's working on, you can find her daydreaming about the next design project for her own house or spending time with family.
Scott Weaver, Production Manager
Scott is the Liston Design Build team's Production Manager. After graduating from UCM with a degree in Construction Management, Scott worked in commercial construction for 3 years before moving back to St. Louis to be with now-wife Laura, and ultimately joining the Liston team. Since then, he's been the navigator that keeps all Liston projects on track, dispatching production staff, overseeing projects in various stages of production, and acting as a touchpoint for clients. Scott's biggest inspiration comes from creating an experience for clients where both their homes and their lives are improved. A St. Charles native, Scott now lives there with his wife, two daughters and son. When he's not working as Liston's production maestro, he likes to relax by snowboarding, fishing, traveling, and spending time with his family.
Alex Baile, Project Manager
Alex is a Project Manager and has been part of the team since 2019. Alex's lifelong love of building and design makes him the perfect person to steer client projects from beginning to end, whether that means coordinating schedules, sourcing materials, meeting with the carpentry team, or checking in on job sites. As a kid, Alex became interested in building things when he started making skateboarding ramps for himself and his friends. His love of working with his hands grew, and he built and ran his own remodeling company to pay his way through college. After earning his BA in Business Administration from the University of Illinois, Alex worked for building and design companies in Colorado before heading back to the Midwest and joining the Liston team. For Alex, the most important part of his job here at Liston is "to always make it right for the client." When he's not using his detailed approach and problem-solving skills at work, you can find Alex enjoying time in the great outdoors with his family, whether it's hiking with his wife or fishing with his two sons.
Tim Pallett, Project Manager
Tim has always loved working with his hands and bringing ideas to life. He has fond memories of doing handyman projects with his grandfather during his junior year of high school. Today, Tim helps coordinate project details, oversee craftsmanship, and ensure the delivery of great client experience as a Project Manager. Tim most enjoys being able to help make new spaces and unique, custom features a reality for Liston clients. When not at work, he loves finding new, efficient ways of making things. This is evidenced by his ever-expanding and impressive tool collection.
Erin Marty, Designer
Erin joined the Liston team after earning her degree in Architectural Studies from the University of Missouri. Her stellar communication skills and contagious positivity help Erin make the Liston experience a great one for both our clients and our team. Every day is a little different for Erin here at Liston. One day you may find her visiting job sites and meeting with vendors, and another you'll find her drafting design renderings or shopping with clients. This variety is exactly what Erin loves most about her job, as it makes every day a new opportunity to learn, be creative, and rise to new challenges. This drive to innovate and problem solve, along with her skill, helped Erin achieve her NKBA Certified Kitchen & Bath Designer accreditation in 2021. When she's not working, Erin loves sampling new restaurants with her boyfriend, baking, spending time with family, and occasionally indulging in reality TV.
Jessica Hoffman, Designer
As a Designer, Jessica works hand-in-hand with Liston clients to lead them through the entire project process from concept to execution. After graduating with a bachelor's degree in Architectural Studies with an emphasis in Interior Design, she spent 10+ years in the tile industry as a design consultant and showroom manager. Because of her extensive background and knowledge, Jessica loves bringing her eye for design to incorporate colors, textures, and details that truly bring projects to life and ensure that her end products wow and delight. Jessica offers a unique, full-service outlook to the team and is known for building long-lasting relationships and her exceptional organizational skills. When she is home, Jessica loves nothing more than spending time with her husband and two little girls.

Cassidy Wiecher, Communication and Marketing Associate
Cassidy is Liston Design Build's Communication and Marketing Associate. She brings a wealth of knowledge about marketing and advertising from her studies at Missouri State University. As the voice of Liston, Cassidy guides potential clients through their first consultation and creates a positive client experience from that initial point of contact through project completion! Cassidy joined LDB because of our team's passion for what we do and jumped right in, visiting job sites, attending selection meetings, taking progress photos, assisting our designers, and promoting LDB on social media. Her favorite Liston project is the Bon Hill Drive lower level remodel, specifically the bar area with its textured brick wall and built-in wine cabinet. In Cassidy's free time, she loves attending Blues hockey games and traveling to anywhere with a beach. In addition to being a rockstar with our client experience and social media, she's also a star volleyball player!
Craig Bruening, Lead Carpenter
Craig, part of the Liston Design Build family for 18 years, is a Lead Carpenter. Meticulously detailed and a master at visualizing a finished space, Craig uses his years of carpentry knowledge and experience to frame and build new rooms for clients and add beautifully detailed finishing touches, like custom trim and crown molding, to projects. For Craig, the best part of his job is seeing the finished product come to life when a client's new space is completed. An O'Fallon, Missouri resident since the age of 4, Craig enjoys his days off riding bikes and spending time with his 2 children and 4 grandchildren.
Bryan Anspach, Lead Carpenter
When he was 10 years old, Bryan witnessed a house being built from start to finish. From then on, he knew he wanted to build for a living. Today, Bryan uses his skillsets to create beautiful finish and trim carpentry, as well as custom woodwork and cabinet projects here at Liston. Bryan finds it hard to choose one project he's most proud of, but he recalls enjoying building a bar from the ground up – the drywall, dance floor, and solid oak bar back with custom trim. His love of tinkering as a youngster continues into today. Bryan can build a Harley Davidson bike from the ground up. He also loves hanging out with his favorite people – his daughter, son, and grandson – when not at work.
Rich Marter, Lead Carpenter
Rich joined Liston Design Build as a Lead Carpenter in September 2021. In this role, Rich analyzes prints and ensures that materials are trimmed to exact specifications. He believes that giving 100% on every job is the key to making the client happy. For Rich, the best part of the job is getting to see the face of a homeowner after a finished project. Prior to joining Liston, Rich owned his own carpentry business. When Rich isn't making client dreams come true, he spends his time hunting, fishing, or golfing.
Jeff Smith, Lead Carpenter
Jeff enjoys the process of creation. His passion for working with his hands led him to pursue a degree in culinary arts where he used food, instead of wood, as ingredients. After honing his skills in restaurants, he found himself admiring the surroundings more than the menu items and knew it was time to return to construction. Jeff is able to build anything, but most enjoys creating trim and cabinets because of the visibility and durability of the product. Jeff inherited his incredible work ethic from his parents; he is not satisfied until the job is perfect. It is this kind of quality craftsmanship for which Liston Design Build is known. When he is not working, Jeff enjoys hunting, fishing, spending time with family, and exploring new places on his Harley.
Dan Stone, Lead Carpenter
Dan joined the Liston Design Build team in January 2022 and quickly ascended to Lead Carpenter. In this role, he carries out all aspects of carpentry and utilizes his unparalleled organizational skills. Dan loves being able to work on something new every day but installing cabinets will always be one of his favorite parts of a job! When not at work, Dan can be found landscaping and spending his time enjoying the outdoors. 
Joe Murray, Carpenter
Joe began his career with Liston as a Laborer in 2015. Now a Carpenter, Joe spends his days installing trim, setting cabinets, gathering materials, cleaning up job sites, and diving into new carpentry projects to continue honing his skills. For Joe, the key to a successful build is taking the time to make sure everything not only looks beautiful but is built with precision and care as well. Along with the opportunity to learn something new every day, Joe's favorite part about working at Liston is working with such a fun and supportive team. Outside of work, you can often find Joe practicing his archery skills (at least, when it's warm out!).
Anthony Braun, Carpenter
Anthony Braun is a Carpenter and has been with Liston Design Build since 2017. He began his career at Liston as a laborer and continues to build new skills with each job he helps to complete, whether he's learning from other carpenters in the shop or visiting job sites to assist with builds. Anthony's persistent desire to learn and his unwavering positive attitude make him an invaluable and fun part of the Liston Design Build Family. For Anthony, the best part of his job is the opportunity to always learn something new. He also loves the thrill of watching a project evolve from start to finish. When he's not working, you can find Anthony on his motorcycle, practicing archery, or spending time with his family in St. Louis.
Brendan Gray, Assistant Carpenter
Brendan is an Assistant Carpenter who focuses on maintaining a clean jobsite while learning new carpentry skills from the lead carpenters. Brendan's favorite part of working at Liston is meeting with the homeowners. On the weekend, he loves riding and stunting motorcycles and watching comedy.
Travis Rout, Assistant Carpenter
Proudly hailing from Highridge, Missouri, Travis is an Assistant Carpenter who is always eager to learn more about the industry. Travis' favorite part of his job is having the opportunity to do high-quality work that helps homeowners while improving his own carpentry skills. When not at work, he loves to hang out with his friends and their dogs at Bull Shoals Lake in Arkansas, work on anything with an engine, and explore town.  
Your Vision, Our Expertise
Our reputation is built on trust. Our clients know they're getting top-tier service, unparalleled craftsmanship, and innovative, solution-oriented design with every Liston Design Build engagement. Our experts can improve the flow of any space, to perfectly complement your family and your lifestyle.