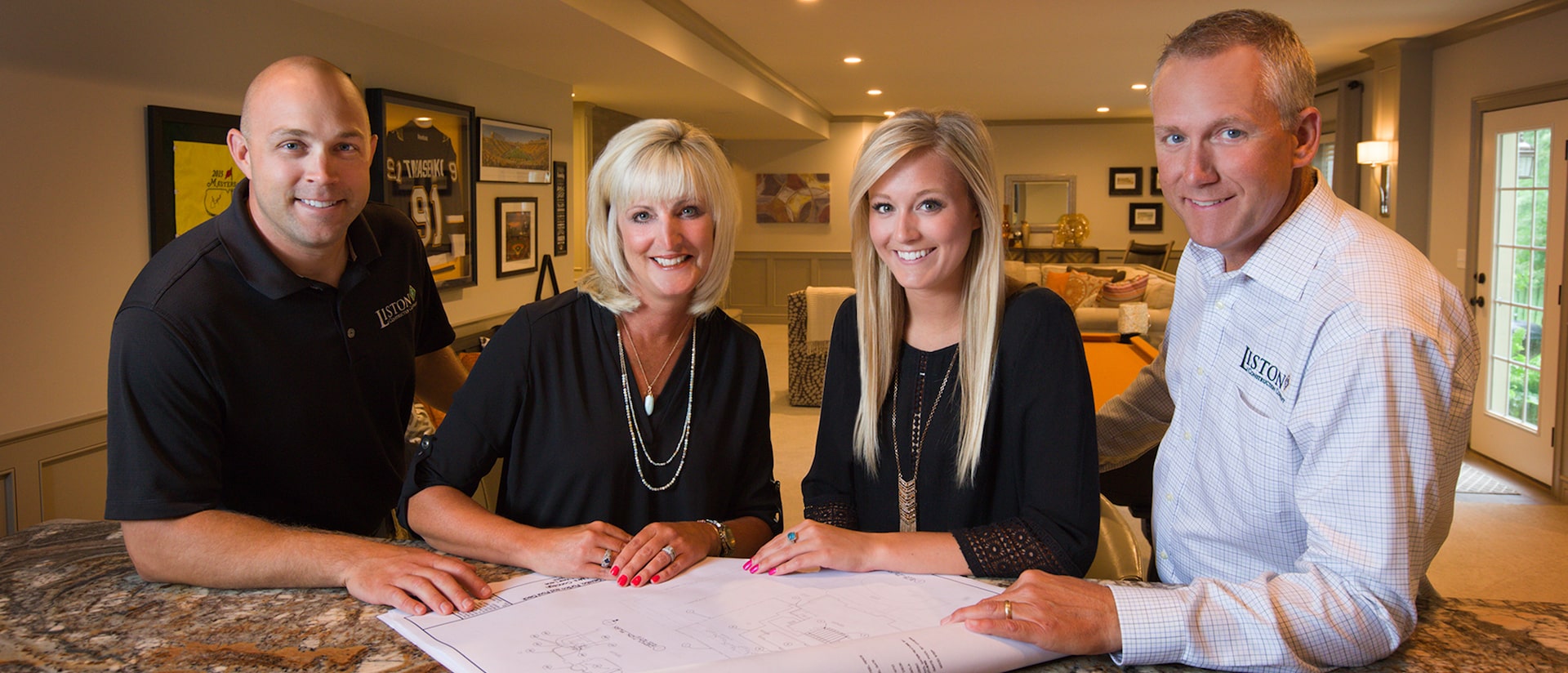 Our Team
Since 1984, the Liston Design Build team has been offering first class remodeling services to St. Louis and surrounding areas. Learn more about our story here.
Keith Liston, Owner
Keith has been the President of Liston Design Build since taking over the business from his father in 2009. As an engineering student in college, Keith began working for his father to pay for school and, to his own surprise, ultimately found himself drawn to the family business and the chance to combine his and wife Jeanne's expertise into a new vision for the company. Over a decade later, Keith now spends his days overseeing that vision and ensuring that Liston Design Build is always delivering an unparalleled experience to clients. You'll usually find him meeting with prospective clients, developing new projects, and checking in on the progress of ongoing projects to make sure the client's vision is coming true. For Keith, the true mission of Liston Design Build comes down to a piece of advice his dad once gave him: if you take care of people, they'll take care of you. Whether that means perfecting a client project or building a supportive culture for his team, Keith's focus is on leading Liston with honesty and compassion. When he's not at the Liston helm, Keith loves nothing more than spending time with his wife, Jeanne, their 4 children and spouses, and 3 granddaughters. When not hanging out with family, you can find Keith on the golf course.
Jeanne Liston, Owner
Jeanne is an Owner of Liston Design Build and handles the company's marketing, business, and team development. After working in the custom home building industry for nearly a decade, Jeanne joined the Liston team in 2009, when she and husband Keith decided to take over his family's business. Now, Jeanne spends her days visiting job sites and product showrooms as she helps clients navigate design choices, communicating with clients and internal teams, and ensuring that every Liston client has a great experience. Jeanne also oversees marketing initiatives and works to continue building Liston's supportive, familial company culture. In addition to the amazing team she is surrounded by, Jeanne's favorite part of her job is seeing a project improve not only a client's home, but their lifestyle. When she's not working to ensure a great experience for Liston employees and clients, you can almost certainly find Jeanne enjoying time with her family – husband Keith, 4 children and spouses, and 3 granddaughters – whom she refers to as both her "everything" and her greatest personal achievement.
Andrea Liston-Jones, Designer
Andrea is Liston Design Build's Director of Design. She joined the company in 2016, while she was pursuing her degree in Architectural Studies and Interior Design and decided to bring her creative energy into the family business. Andrea loves working hand-in-hand with clients to revamp their spaces and inject their personalities into their home design. This involves everything from selecting materials to visiting job sites to creating design renderings and construction documents. For Andrea, the best part of her job is building friendships with her clients that enable her to find the perfect balance of form and function to fit their lifestyle. When it comes to making a client's design dreams come true, Andrea's motto is "don't be afraid to think – or go – outside the box!" Andrea was born and raised in St. Charles, and now lives there with her high-school-sweetheart-turned-husband and their Goldendoodle puppy. When she's not visualizing the next client project she's working on, you can find her daydreaming about the next design project for her own house or spending time with family.
Scott Weaver, Production Manager
Scott is the Liston Design Build team's Production Manager. After graduating from UCM with a degree in Construction Management, Scott worked in commercial construction for 3 years before moving back to St. Louis to be with now-wife Laura, and ultimately joining the Liston team. Since then, he's been the navigator that keeps all Liston projects on track, dispatching production staff, overseeing projects in various stages of production, and acting as a touchpoint for clients. Scott's biggest inspiration comes from creating an experience for clients where both their homes and their lives are improved. A St. Charles native, Scott now lives there with his wife and two daughters. When he's not working as Liston's production maestro, he likes to relax by snowboarding, fishing, traveling, and spending time with his family.
Alex Baile, Project Manager
Alex is a Project Manager and has been part of the team since 2019. Alex's lifelong love of building and design makes him the perfect person to steer client projects from beginning to end, whether that means coordinating schedules, sourcing materials, meeting with the carpentry team, or checking in on job sites. As a kid, Alex became interested in building things when he started making skateboarding ramps for himself and his friends. His love of working with his hands grew, and he built and ran his own remodeling company to pay his way through college. After earning his BA in Business Administration from the University of Illinois, Alex worked for building and design companies in Colorado before heading back to the Midwest and joining the Liston team. For Alex, the most important part of his job here at Liston is "to always make it right for the client." When he's not using his detailed approach and problem-solving skills at work, you can find Alex enjoying time in the great outdoors with his family, whether it's hiking with his wife or fishing with his son.
Erin Marty, Designer
Erin joined the Liston team as a design consultant in 2018, after earning her degree in Architectural Studies from the University of Missouri. Her stellar communication skills and contagious positivity help Erin make the Liston experience a great one for both our clients and our team. Every day is a little different for Erin here at Liston. One day you may find her visiting job sites and meeting with vendors, and another you'll find her drafting design renderings or shopping with clients. This variety is exactly what Erin loves most about her job, as it makes every day a new opportunity to learn, be creative, and rise to new challenges. When she's not working, Erin loves sampling new restaurants with her boyfriend, baking, spending time with family, and occasionally indulging in reality TV.
Craig Bruening, Lead Carpenter
Craig, part of the Liston Design Build family for 18 years, is a Lead Carpenter. Meticulously detailed and a master at visualizing a finished space, Craig uses his years of carpentry knowledge and experience to frame and build new rooms for clients and add beautifully detailed finishing touches, like custom trim and crown molding, to projects. For Craig, the best part of his job is seeing the finished product come to life when a client's new space is completed. An O'Fallon, Missouri resident since the age of 4, Craig enjoys his days off riding bikes and spending time with his 2 children and 4 grandchildren.
Brian Kropp, Lead Carpenter
Brian is a Lead Carpenter and has been with the company since 2018. He spends his days at Liston installing work for clients, leading projects, and helping his teammates build and improve their skills. Brian enjoys interacting with clients and doing detailed interior projects like custom trim work and built-ins, and his patience as a builder is obvious from the impeccable detail that can be seen in his finished work. After wandering everywhere from Florida to Michigan to Oklahoma, Brian now lives in the St. Louis area with his wife and 5 sons, 3 of whom are adopted. He loves spending time with his close-knit family, whom he considers to be his greatest personal accomplishment. While he once spent his free time jumping out of perfectly good airplanes, these days you'll usually find Brian enjoying a hike or working around his house.
Nick Duncan, Lead Carpenter
"If you want it, you've got to work for it." That's been Nick's motto since he was a teenager and has served him well throughout his time in the military and for over a decade in construction. As a Lead Carpenter for Liston Design Build, Nick creates cabinetry, baseboards, and specialty items for clients. A natural problem-solver, he likes creating something from nothing receives his greatest reward in the face of satisfied clients. When he is not crafting something unique, you can find Nick traveling with his daughter for her select softball team, kayaking, hunting, fishing, or spending time with family.
Jeff Smith, Lead Carpenter
Jeff enjoys the process of creation. His passion for working with his hands led him to pursue a degree in culinary arts where he used food, instead of wood, as ingredients. After honing his skills in restaurants, he found himself admiring the surroundings more than the menu items and knew it was time to return to construction. Jeff is able to build anything, but most enjoys creating trim and cabinets because of the visibility and durability of the product. Jeff inherited his incredible work ethic from his parents; he is not satisfied until the job is perfect. It is this kind of quality craftsmanship for which Liston Design Build is known. When he is not working, Jeff enjoys hunting, fishing, spending time with family, and exploring new places on his Harley.
Joe Murray, Carpenter
Joe began his career with Liston as a Laborer in 2015. Now a Carpenter, Joe spends his days installing trim, setting cabinets, gathering materials, cleaning up job sites, and diving into new carpentry projects to continue honing his skills. For Joe, the key to a successful build is taking the time to make sure everything not only looks beautiful but is built with precision and care as well. Along with the opportunity to learn something new every day, Joe's favorite part about working at Liston is working with such a fun and supportive team. Outside of work, you can often find Joe practicing his archery skills (at least, when it's warm out!).
Anthony Braun, Carpenter
Anthony Braun is a Carpenter and has been with Liston Design Build since 2017. He began his career at Liston as a laborer and continues to build new skills with each job he helps to complete, whether he's learning from other carpenters in the shop or visiting job sites to assist with builds. Anthony's persistent desire to learn and his unwavering positive attitude make him an invaluable and fun part of the Liston Design Build Family. For Anthony, the best part of his job is the opportunity to always learn something new. He also loves the thrill of watching a project evolve from start to finish. When he's not working, you can find Anthony on his motorcycle, practicing archery, or spending time with his family in St. Louis.
Jeremiah Curtright, Production Assistant
Jeremiah has been a Production Assistant at Liston Design Build since 2019. Growing up with a father and an uncle who are carpenters, Jeremiah found a natural interest in the trade that inspired him to bring his skills to the Liston team. Most days, you'll find Jeremiah assisting the carpentry team, demoing spaces for new projects, cleaning up job sites, or shadowing his teammates to learn new skills. For Jeremiah, the best part of his job is the supportive and positive team he gets to work with each and every day. In his free time, Jeremiah enjoys training in mixed martial arts and boxing – a skill that snagged him a win at the 2019 St. Louis Golden Gloves Tournament!
Your Vision, Our Expertise
Our reputation is built on trust. Our clients know they're getting top-tier service, unparalleled craftsmanship, and innovative, solution-oriented design with every Liston Design Build engagement. Our experts can improve the flow of any space, to perfectly complement your family and your lifestyle.