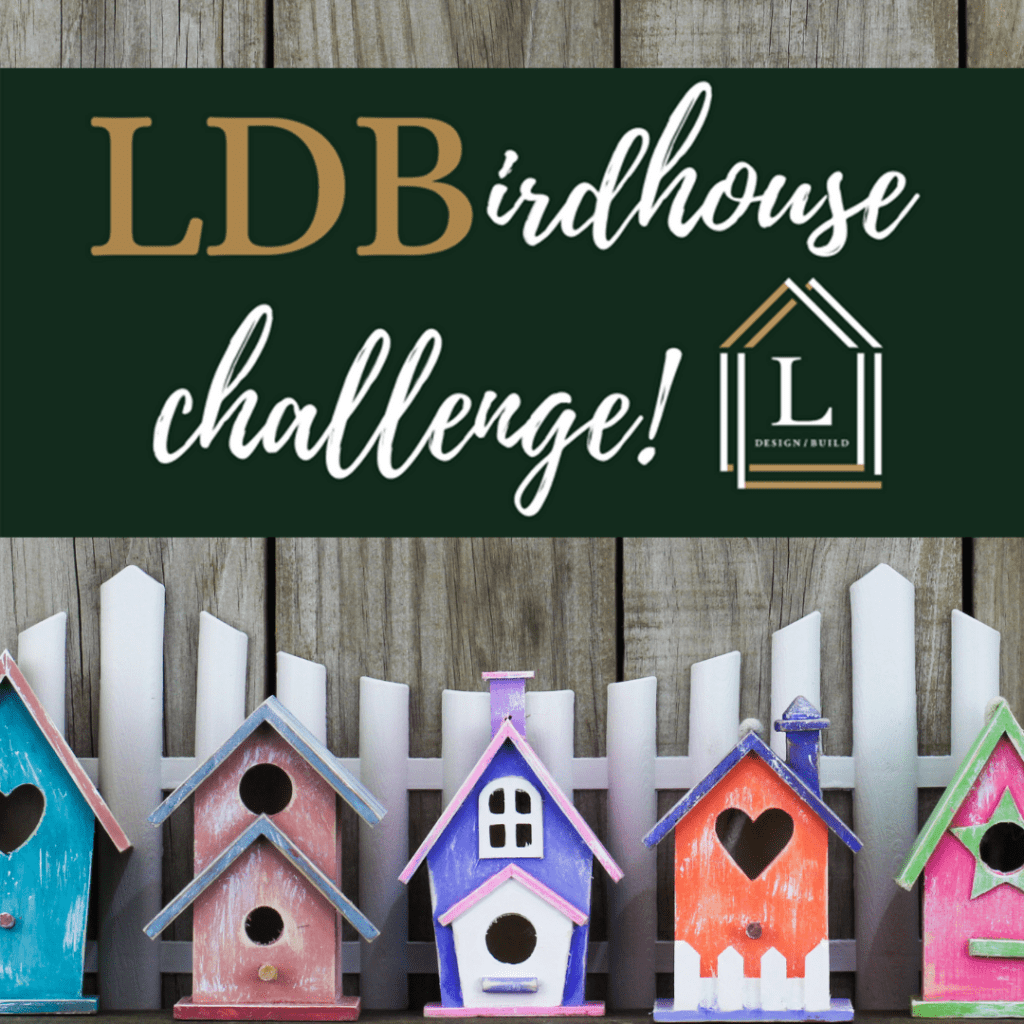 We're excited to announce Liston Design Build's Second Annual Bird House Challenge! Whether it's date night, a family-fun activity, or an individual DIY project, everyone in the community is invited to participate. Last year, we saw nearly 40 amazing creations from friends and neighbors of all ages – we can't wait to see what everyone comes up with this year!
How it works:
Our carpenters are preparing 150 bird house kits with all necessary supplies and detailed assembly instructions. We challenge you to build one of these bird houses and add your own personal design touch! Sign up by June 4 by messaging us through Facebook or Instagram or giving us a call at (636) 940-9417. There are no fees or requirements to enter, and kits will be available for pickup beginning on June 11. After pickup, you'll have two weeks to put your creativity to the test! Entries are due by June 25 and LDB Facebook followers will vote the week of June 28 for their favorite designs.
What you can win:
Be sure to send us photos of your birdhouse once completed so we can show the LDB followers how creative you can be! Winners of the Bird House Challenge will receive a $100 gift card to a local restaurant! We will announce the winners on July 2.
Key Dates:
Deadline to signup: June 4
Kits available for pickup: June 11
Deadline for submitting entry: June 25
Judging begins: June 28
Winners announced: July 2
LDB Gives Back:
This year, we're using this contest as an opportunity to give back. We're collecting donations on behalf of Boys and Girls Club of St. Charles County (BGCSTC) and encourage all participants to give if they are able. For the past 65 years, BGCSTC has helped youth in the St. Charles and O'Fallon area graduate from high school, develop their character and leadership skills, learn to live a healthy lifestyle, and plan for a successful future. Big or small, any donation makes a difference in the lives of kids and teens who attend BGCSTC! Thank you in advance for your generosity and for helping us support this cause that is near and dear to our hearts.
If you have any questions about the Bird House Challenge, reach out! Looking for inspiration? Here's a peek at some of last year's designs:

Good luck and happy building!