Our team brought home THREE awards from this year's Home Builders Association of St. Louis and Eastern Missouri (HBA) Awards Program! We're honored to receive this achievement, which recognizes our commitment to design build quality and excellence for our customers. 
Following are some details about this year's award-winning projects: 
Category: Overall Redesign Remodeling Project of the Year — Wingfield Road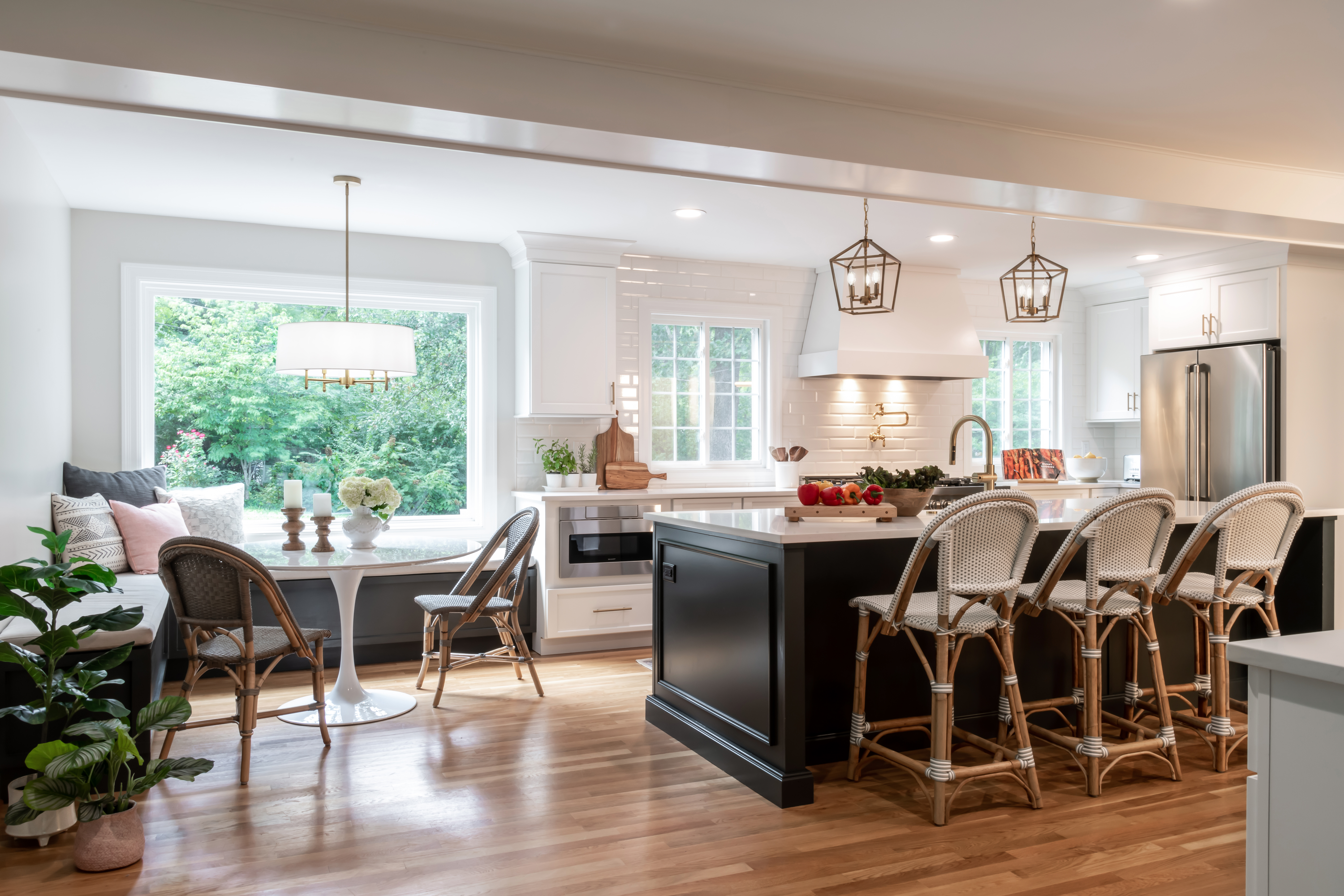 Our clients were looking to make enhancements to their home — and their lifestyle. Their family of five had outgrown their galley kitchen and adjoining family room! They needed functional spaces throughout their home that were better suited to the plethora of activities their family engages in on a day-to-day basis. 
This addition breathed new life into the home, with a sleek, spacious kitchen and a cozy breakfast nook located in front of a picture window. Their charcoal gray and white color palette creates a timeless, bright, and classic look. The large expansive island adds drama and grounds the space, while the marble-like quartz countertops unite the white and charcoal gray custom cabinetry. 
Located just off the kitchen is a gorgeous sunroom with a shiplap feature wall and expansive views of the backyard. In the mud room, the storage cubby, bench, and open cabinets tie in the color of the island. Overall, this project's elements of texture, functionality, and dimension are just what this busy family needed to fully enjoy the space they live in. 
See more project photos here. 
Category: Remodeling Project of the Year, Bathroom — Williamsburg Estates Drive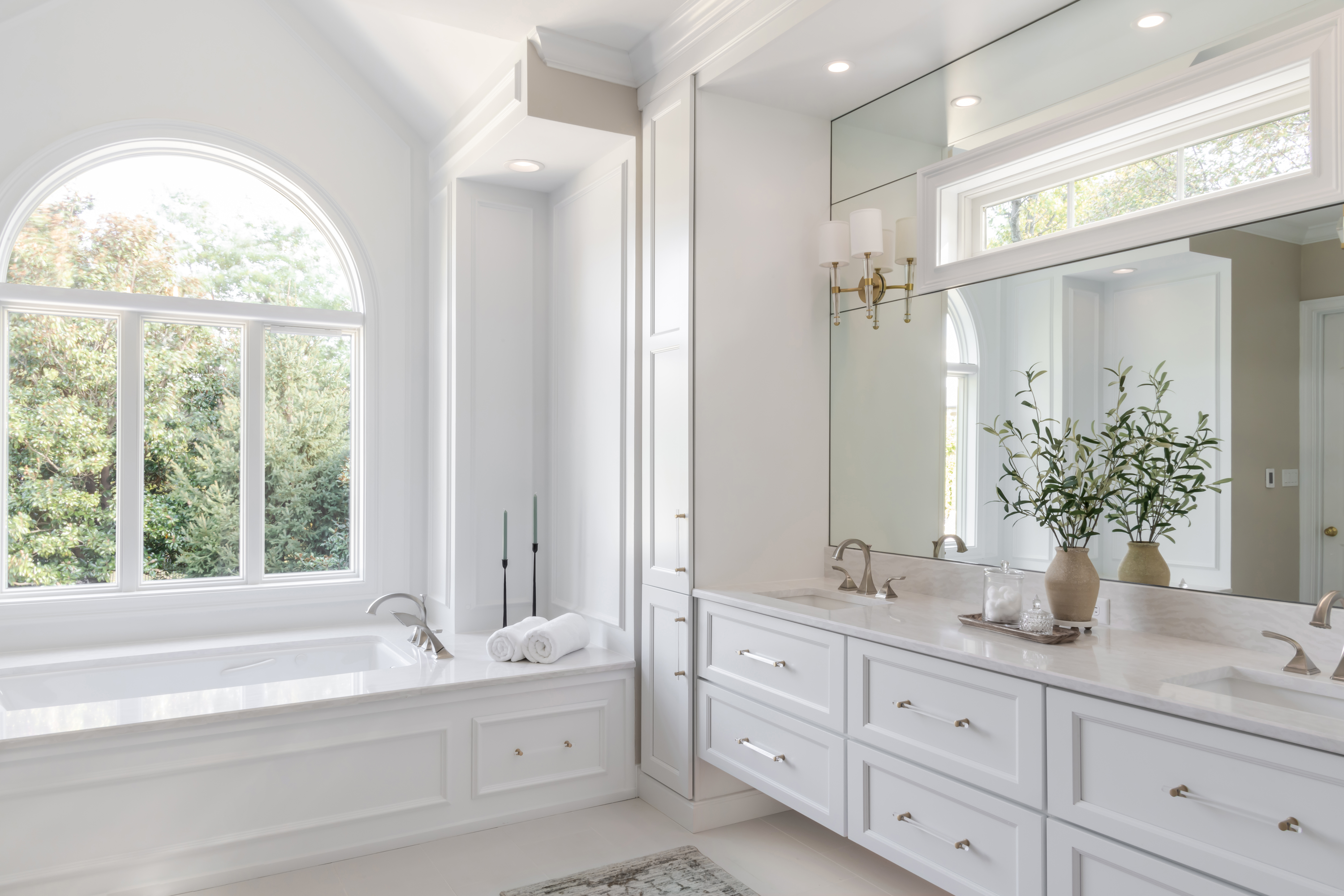 This Town & Country couple was looking for an updated, fresh look in their master bathroom. Original to the home, it was lacking modern day aesthetics and much-needed storage solutions. Our clients deserved a spa-like oasis that would feel serene, organized, and clutter free.
Their new tub deck includes hidden storage drawers, and the alcove's trim details add an elegant aesthetic with timeless details and design. For additional storage, the two custom His & Hers tower cabinets hide everyday items, while under cabinet lighting serves as a soft light when unwinding from the day. 
The creamy whites, taupes, and complementary grays enhance the tranquil nature of the space while brushed nickel and gold accents bring warmth. Paired with bright white cabinetry, marble-veined quartz, and white tile flooring, their updated bathroom comes together for that 'spa feeling' in their own home. 
Explore more of the project here. 
Category: Remodeling Project of the Year, Kitchen — Lay Road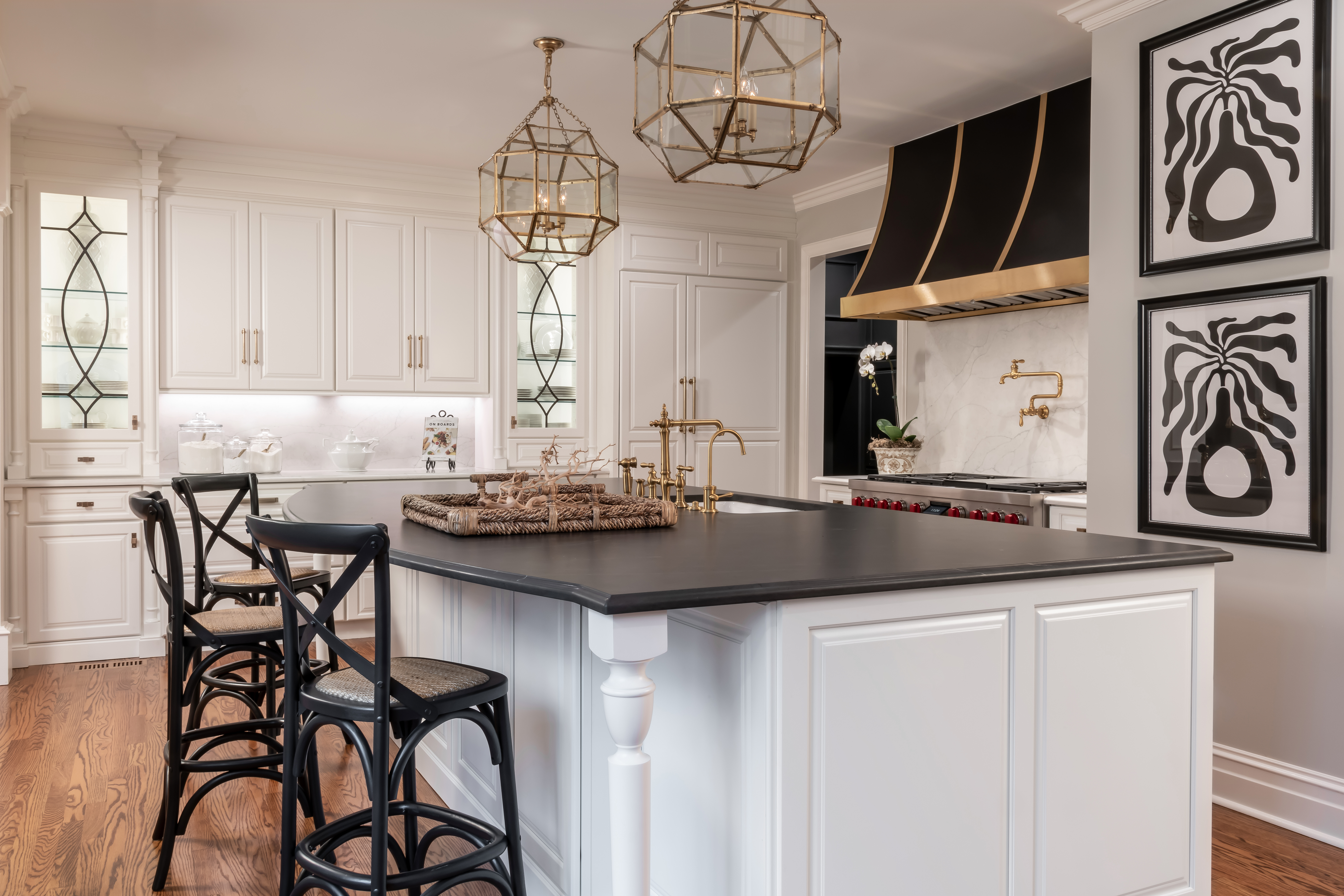 A gorgeous 1930s home, the Lay Road kitchen remodel required a balance of old and new — blending both seamlessly to create a kitchen built for gathering, cooking, and entertaining. This kitchen's expanded footprint allows for a large cooking area with an expansive black soapstone-like quartz island, a breakfast table area, and a moody, elegant bar. 
In keeping with the home's original timeless design, a bold color palette of white, black, and charcoal highlights the brass finishes. The crisp white cabinetry is functional and complements the marble-like quartz countertops to brighten up the space. The dramatic black and brass range hood serves as a "wow" factor, and the honey-gold pendant lights anchor the island while highlighting the brass plumbing fixtures and cabinet hardware. 
This project is all in the details — from cabinet finish, countertops, concealed wood-front appliances, moldings, and more! 
View more project photos here. 
Contact Liston Design Build
Our team would love to help you bring your vision for your home to life. We don't do what we do for the honors, but we do it to see the smiles on our clients' faces and the messages we receive months later about how much they enjoy their new spaces. Contact us today to get started!