Overall Redesign Award Winner at the 2017 St. Louis Home Builders Association (HBA) Sales, Marketing, & Construction Awards
The homeowner had dreamed of an expanded kitchen space for their 1938 two-story house for years before contacting Liston Design Build.  There were countless photos, ideas, and visions that through the design process were fine-tuned to achieve a finished look. With 3 school-age children, the homeowners are busy and needed a larger area that provided room for cooking, a place for the kids to do homework, and a large table space – a space to live, cook, and play.  On the second floor, the homeowners desired an additional bedroom with a loft/study area.
"The addition project for our home was a long time coming…about 10 years to be exact.  When we bought our home, we knew that the one drawback was its small 1930-size kitchen.  Our hope was that one day we'd have the budget to not only expand the kitchen but re-work the back entrance to the house and also add space on the second level.  This past spring, that dream became a reality thanks to Liston Design Build."
Before Kitchen and Bedroom Remodel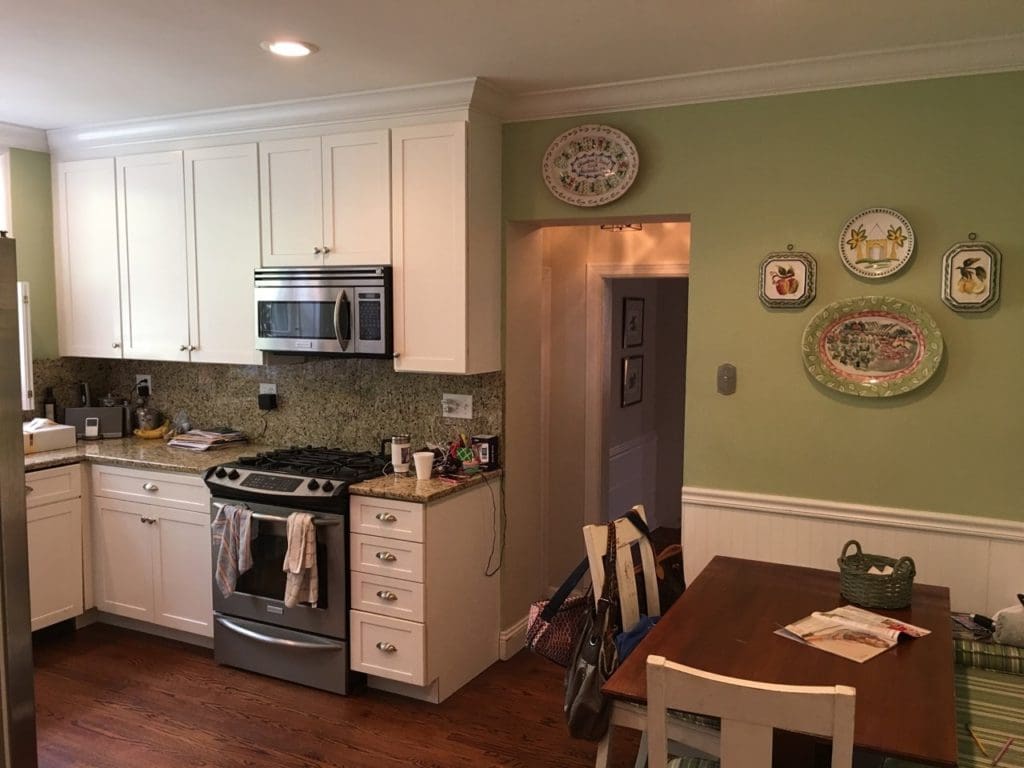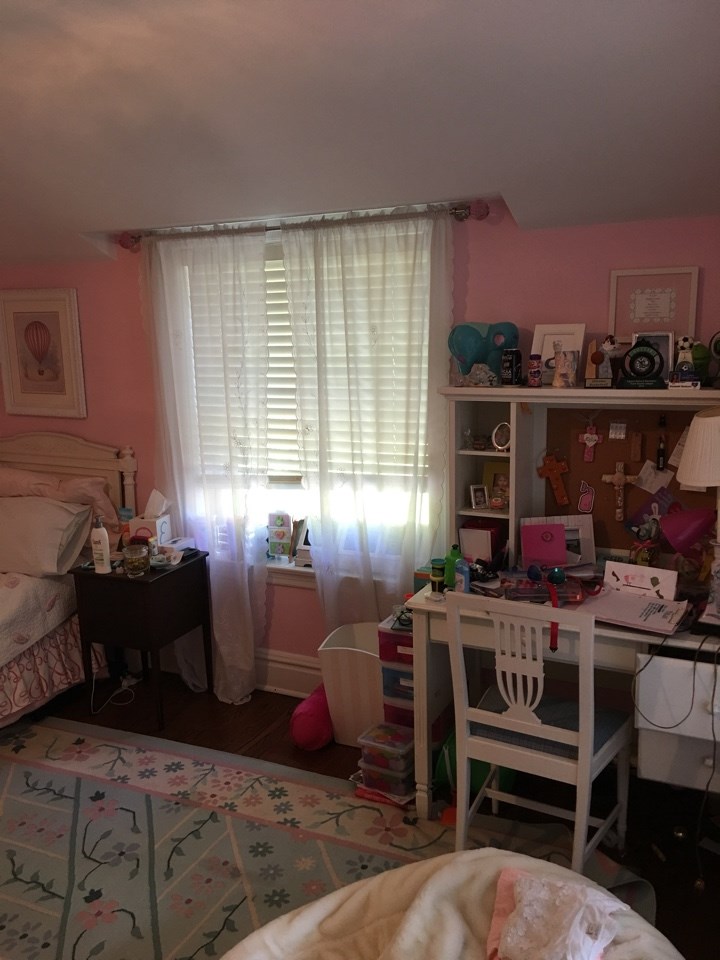 When adding on to a 1930's full masonry house, there are many challenges.  Shoring the rooms and roof above while removing an 8″ thick wall was the largest of these challenges.  We also had to deal with a yard that sloped towards the house, which necessitated pouring the foundation higher, and recessing the subfloor inside. A few other challenges were designing the mechanical systems to properly condition the new space and blending in new hardwood floors with the existing. Part of this project required removing exterior walls of the house to complete the build.  Keeping the owner's home secure and dry was a concern from the onset.  With some creative staging and long days, we were able to accomplish our objectives.
"There is no doubt that our 80+ year-old Colonial brought challenges for their construction team (plastic soil, a sloping lot, uneven walls, etc.), but they handled them with ease and kept the lines of communication open always.  We wanted our addition to not feel like an addition…in other words, we wanted the construction details to mesh with our existing architecture and the design details to flow with the rest of the home."
Their kitchen is now bright and white with Cambria quartz countertops, new stainless-steel appliances, a subway tile backsplash, and hardwood flooring to tie into the adjoining spaces.  A butler's pantry with a wall mounted TV, additional storage, and undercounter beverage center is perfect for a house with 3 children.  This family of 5 also gained a drop zone consisting of built-in lockers off the new kitchen.
After Kitchen Remodel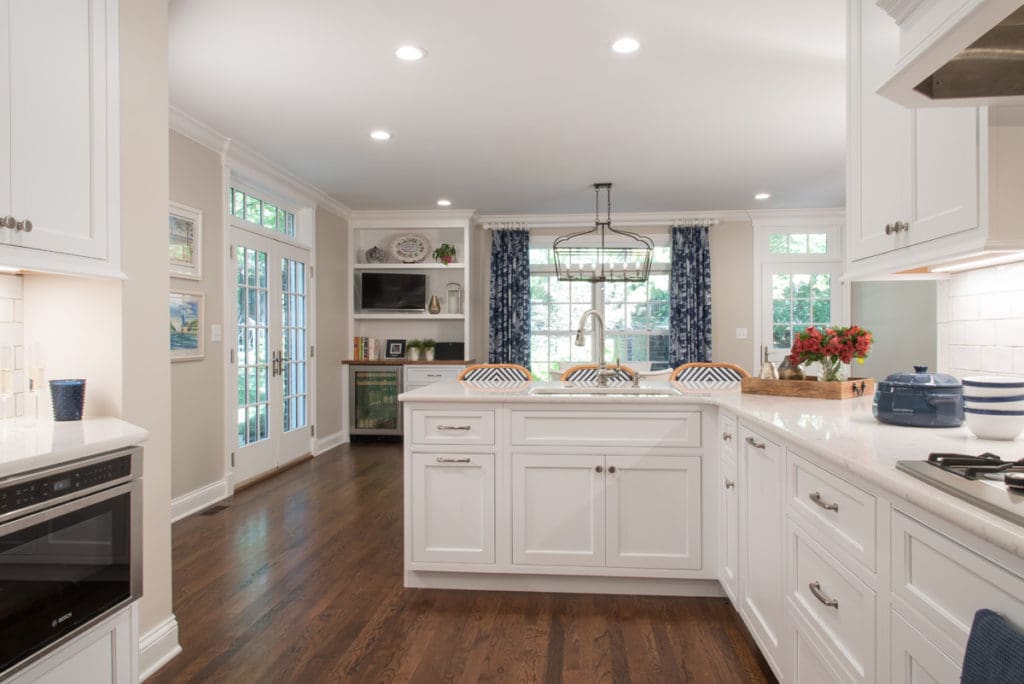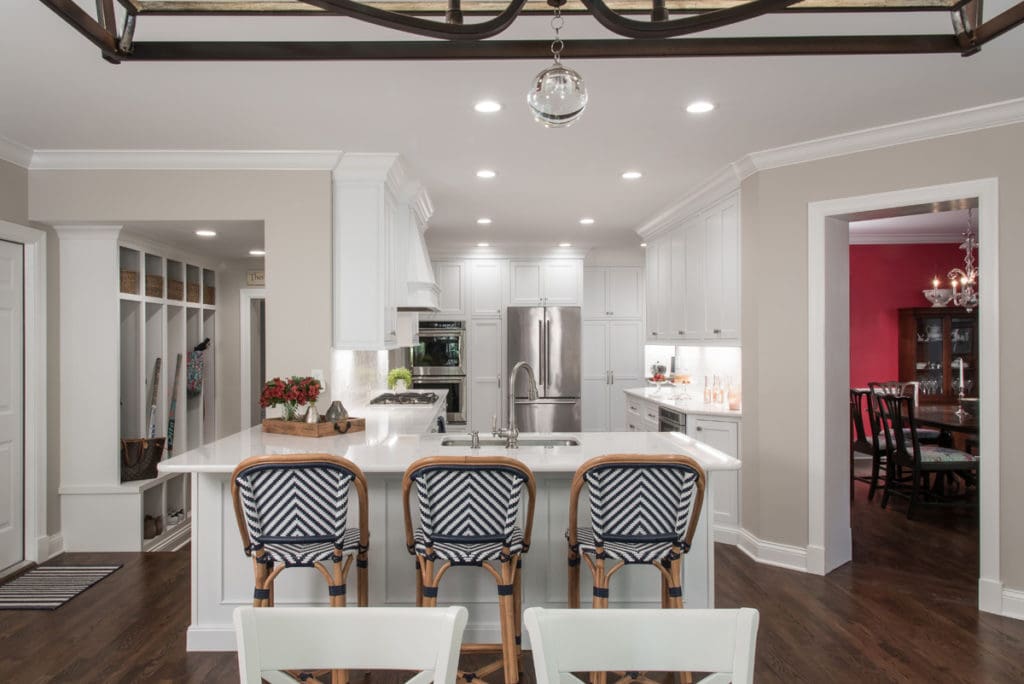 "We now enter into a spacious, bright, welcoming kitchen with plenty of open space to move about, plus a great drop zone complete with 5 custom-made cubbies (this is the mom-envy spot of our addition!).  The kitchen flows outdoors to the patio and firepit, as well as inside to the dining room, family room, and back staircase.  And the kitchen itself is well organized and functional…it even has a special zone for the new puppy and all her stuff!
After Bedroom Remodel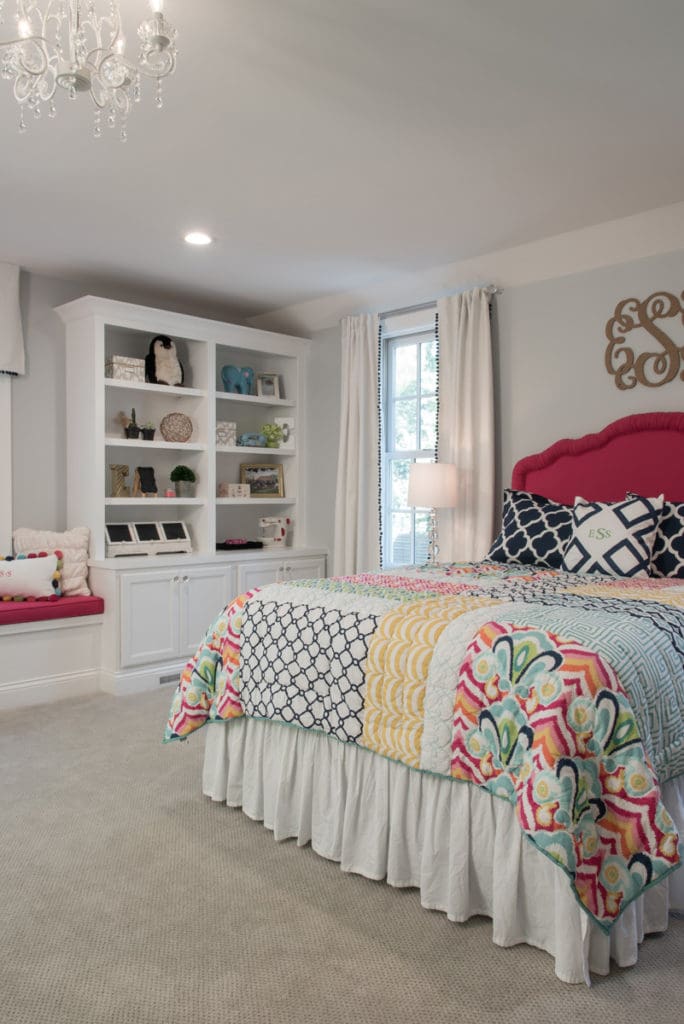 Upstairs, we added custom cabinetry to include a desk, built-in storage and a window seat to make a middle school girl's vision come to life in a new, larger bedroom.
"Our daughter enjoys a massive new bedroom that is bright and sunny with windows on three sides, and her old room is now a treasured study room for the teenagers that can also function as extra guest room space."
The addition enhanced this family's lifestyle on both levels of their home with useable, open space for this busy family.
"One of the greatest complements I have received is that the new portion of our home blends with the old part of the home.  From the gabled windows on the second floor, to the perfectly feathered-in dark oak floors, to the transom windows above the French and back doors, to the thick baseboard and crown molding, to the quality workmanship of the built-ins, the Liston team made sure that the little touches made a big impact."
If you would like to remodel your home, contact Liston Design Build at 636-940-9417 or email us.