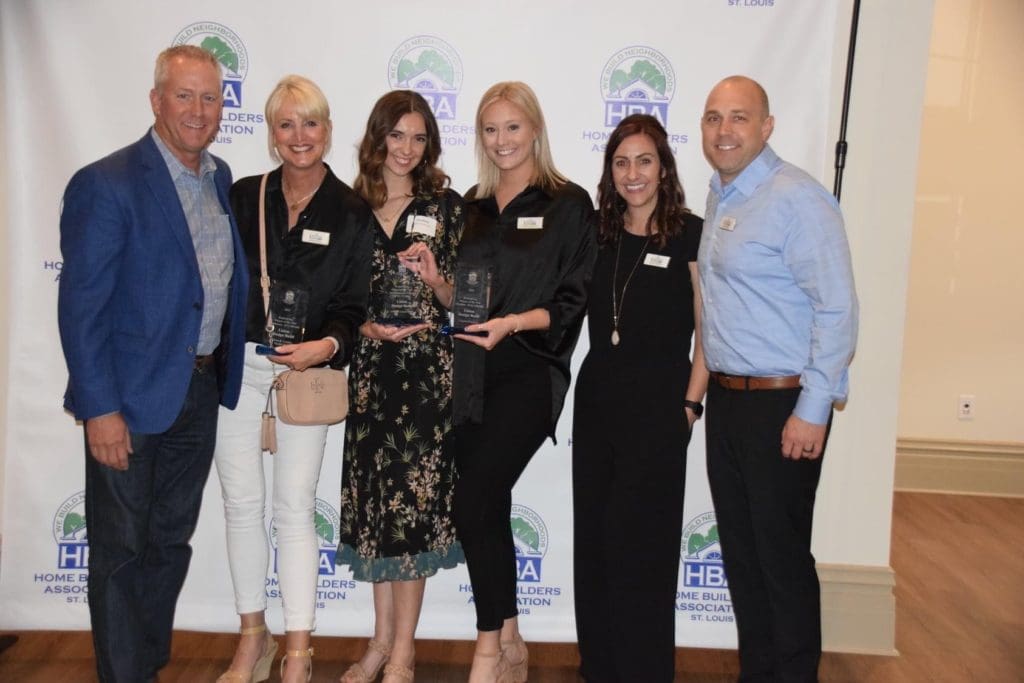 We're honored to once again be named a Home Builders Association of St. Louis and Eastern Missouri (HBA) award winner for the sixth year in a row! Each year, the HBA honors excellence in the home building industry, recognizing winners in more than 35 categories. See below for details about this year's projects that were recognized! 
Category: Remodeling Project of the Year, Kitchen – Polo Drive Kitchen Remodel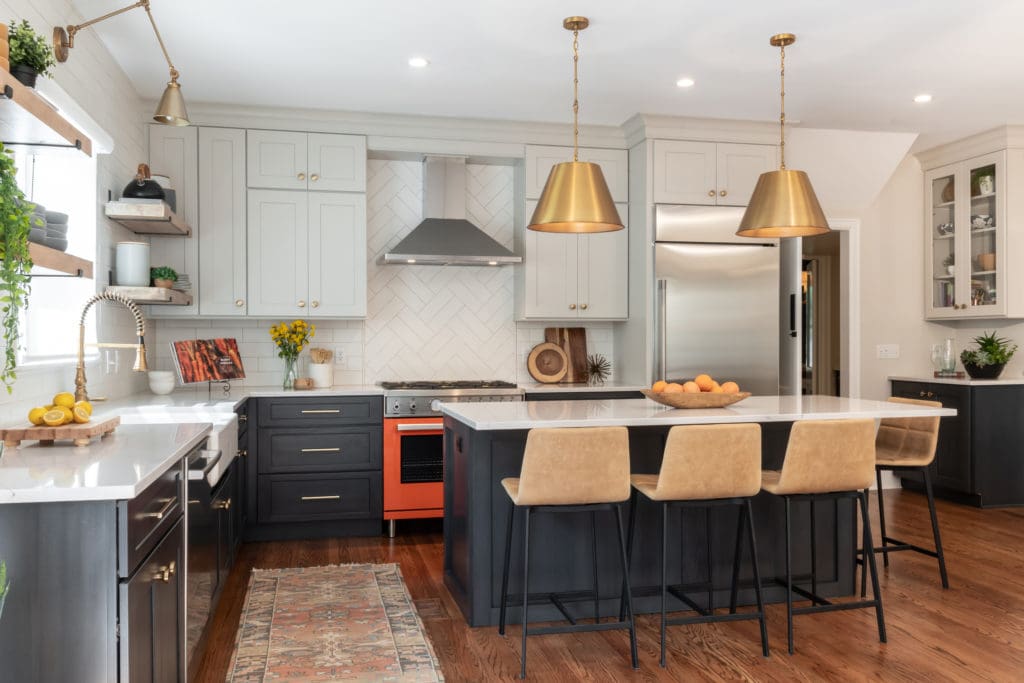 While spending more time at home during the pandemic, our clients realized they were in need of a space where the entire family could gather. 
This complete extended kitchen remodel increased the overall footprint of their existing space by extending cabinetry to the ceiling, incorporating a small bar area between the kitchen and dining room, enlarging the window above the kitchen sink, and adding a spacious island. Dramatic, honey-gold brass pendant lighting and a matching arm light over the sink bring sunset colors together, with an added surprise pop of color in the form of a striking orange range below the Soffit stove hood. 
Now, this kitchen is an oasis for the whole family. "We went from a kitchen that was best described as 'functional' to something that makes our house feel like a home."
Find more photos here. 
By the way: This project was also recognized by St. Louis Homes & Lifestyles as Kitchen of the Year for their Gold over 400 Square Feet category!
Category: Remodeling Project of the Year, Bathroom – Devonworth Court Master Bath Remodel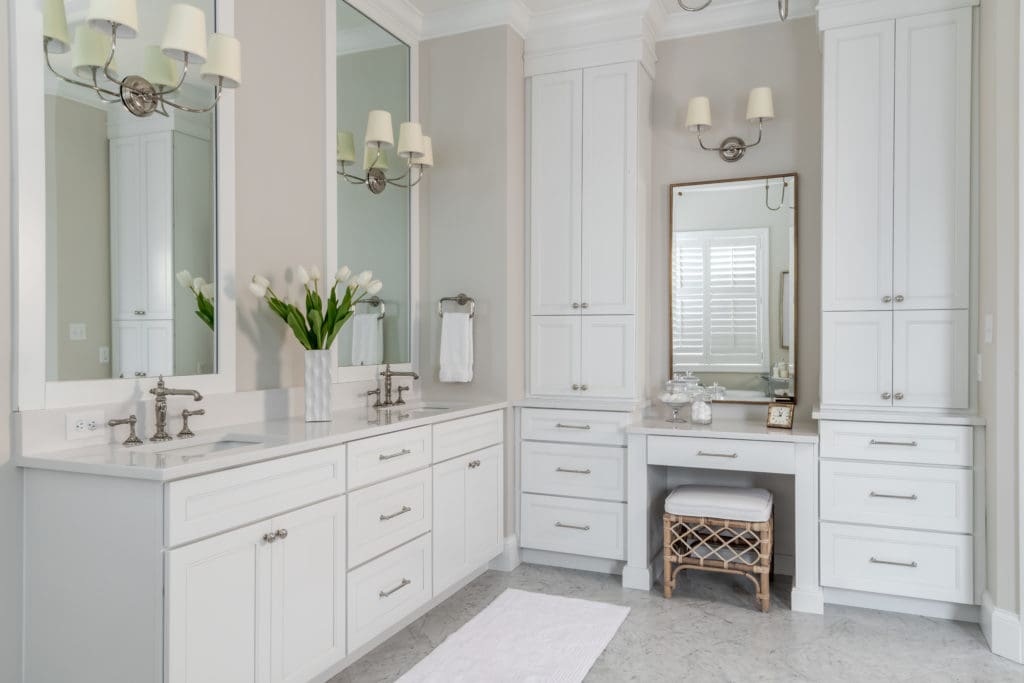 Our clients dreamed of having a spa-like oasis within their home — a place where they could not only energize and begin their days, but also a place to unwind in the evenings. This master bath remodel involved removing angled walls to create a double vanity flanked with custom mirrors extending to the ceiling and incorporating gold vanity sconces as accents. Dark colors were updated to a bright, monochromatic palette. 
"We knew we wanted to brighten the room and go with a timeless, classic look. Our vision was inspired by a recent stay at a Ritz-Carlton where the bathroom was done in Carrara marble with polished nickel fixtures." 
The client's vision was brought to life with a glass-enclosed shower featuring beautiful Carrara marble subway tile with a custom recessed niche, large quartz bench seat, and polished nickel finishes. Custom details brighten the space all the way from the ceiling to the Herringbone Carrara marble floor.  
See more of this spa project here. 
Category: Remodeling Project of the Year, Miscellaneous – Bon Hill Drive Lower Level Remodel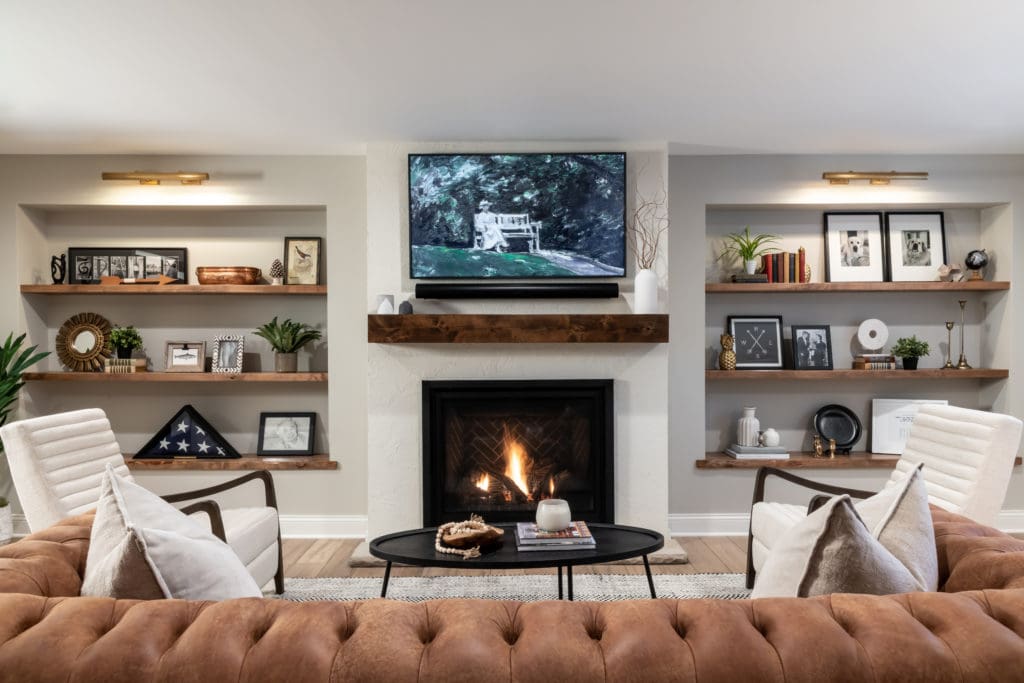 Our clients wanted to lean into an open concept design in their lower level space, creating an area that would evoke feelings of warm sensibility. Their reimagined interior features a variety of natural accents to achieve a moody atmosphere — with built-in floating wood shelves, rich leather seating, a creamy white stucco fireplace, and brick backsplash. 
These clients love to entertain and spend time with friends and family, but they needed their lower level to include three different functional areas (including a new home gym!) while maintaining its open concept. Ceiling and wall treatments were used to create cohesive separation between these spaces, including board and batten wall treatment and wood beams. 
"Our lower level is one of the most beloved areas of our home, and where we will continue to create memories and enjoy spending time with people who are most important to us." 
Explore more project photos here.
Our team is looking forward to continuing our promise of delivering on the visions our incredible clients dream up with our team by their side. Distinguished honors like these are just the icing on the cake as we get to design and build such incredible work together every day. Here's to a future of much of the same!
Contact Liston Design Build today to get your project on the books and bring your vision to life.