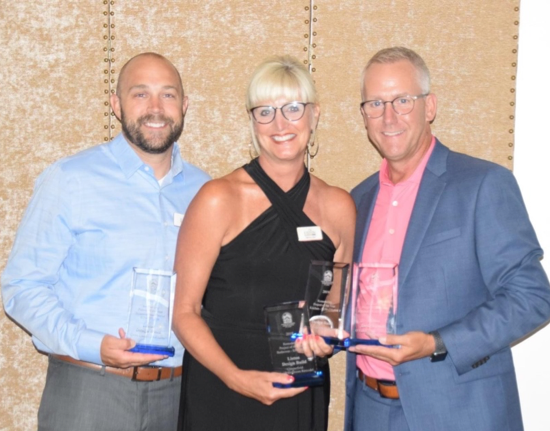 We are so very proud to announce that for the fourth consecutive year, we have once again been recognized as award winners at the Home Builder's Association of St. Louis & Eastern Missouri Awards Gala. Entries are judged by HBA members and winners are recognized as purveyors of excellence in the home building industry. Hosted at Bogey Hills Country Club on July 16, 2020, awards were divided into three categories: Homes of the Year, Marketing & Advertising, and Personal Achievement. Liston couldn't be more excited to have won 5 Remodeling of the Year awards – for more information, find individual project details below!
Remodeling Project of the Year, Kitchen, $100-125,000 Budget:
Liston Design Build – O'Fallon Kitchen Remodel
Our client's goal was a timeless design, while adding their personal touches. The large, navy blue stained island paired with white and gray countertops and large black pendant lights draw your eye to the center of the room. To incorporate the uniqueness of the island color, we added a beautiful accent pattern tile, behind the large hood, to really pull out the blues of the island cabinetry. With so many fun and playful materials, we kept the perimeter cabinets white with a classic gray, concrete-like, countertop and a light gray subway tile. All of the materials and design elements in the kitchen play off of each other and complement each other in a way that brings a cohesiveness to the space and the rest of the home.
"We loved the fact that we would get in-person, one-on-one help choosing design elements and a 3D rendering of the final project. It put our minds at ease to "see" the final product before the work began. Knowing the final outcome would be so great made those two months of eating in the makeshift basement kitchen worth it! Our new kitchen is just what we needed for our family of four."  
Find all project photos here.
Remodeling Project of the Year, Kitchen, $150-175,000 Budget:
Liston Design Build – Creve Coeur Kitchen Remodel
After talking through design options with our clients, we reconfigured the kitchen layout, increasing the overall footprint by extending cabinetry to the previous kitchen table area. Secondly, by eliminating a wall which housed an electrical panel, we were able to alleviate a previous pinch point between the cabinetry and island. With purposeful appliance locations and a new Wolf dual fuel range, we were able to increase the size of the island – giving our clients plenty of countertop space for both cooking and entertaining. The built-in refrigeration, an undercounter beverage center and ice maker are all housed together on the TV wall giving the client more countertop space as well as storage – a perfect space for food and drink set-up when hosting family-get togethers.
"The work crew impressed us daily with their high-quality skills, friendliness, and conscientious efforts to accommodate our daily lives. They were trustworthy and professional. The finished product has met and exceeded our expectations. We now have a much larger, modern, extremely functional kitchen that has enhanced our lives." 
Find all project photos here.
Remodeling Project of the Year, Bathroom, $50-75,000 Budget:
Liston Design Build – Chesterfield Master Bath Remodel
With endless amounts of wallpaper, an old jetted tub, and tired finishes, our clients wanted to change their 1990s Master Bath and embody a new spa-like oasis in their Home. We used a muted color palette to enhance the tranquil nature of the space. The soothing gray cabinetry paired with white quartz countertops add an organic feel to the bathroom. The curvature of freestanding soaking tub brings fluidity into the room as it is flooded with natural light from the two large picture windows. To emphasize this focal point bathtub, we added bright white wainscoting to encapsulate it and bring your eye to the space as you walk into the room. The combination of the light gray heated tile floor with the soft white shower tile enhances the relaxing atmosphere. To personalize the bathroom for the clients, we added a herringbone accent tile in the shower, brushed brass fixtures along with matching cabinet hardware, and show stopping light fixtures to elevate the space and add subtle pops of glam. This bathroom is not only a spa-like retreat, but it is a timeless design that will stand the test of time.
"Our recent master bath remodel with Liston Design/Build was the answer to our prayers! We appreciate not only the comfort of our bathroom, but the beauty of the different finishes and the way the bathroom's beauty affects how we feel. Each day we have appreciation for the beauty and the comfort their design has added to our life." 
Find all project photos here.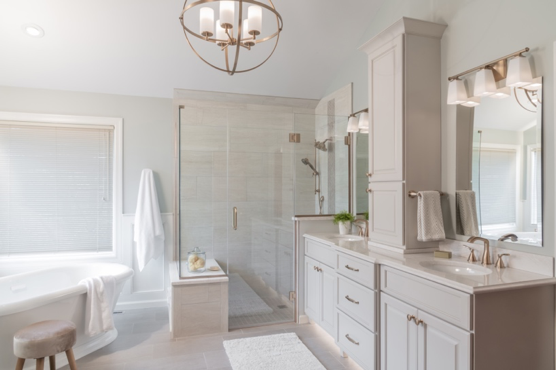 Remodeling Project of the Year, Miscellaneous Project, $250-275,000 Budget:
Liston Design Build – Creve Coeur Lower Level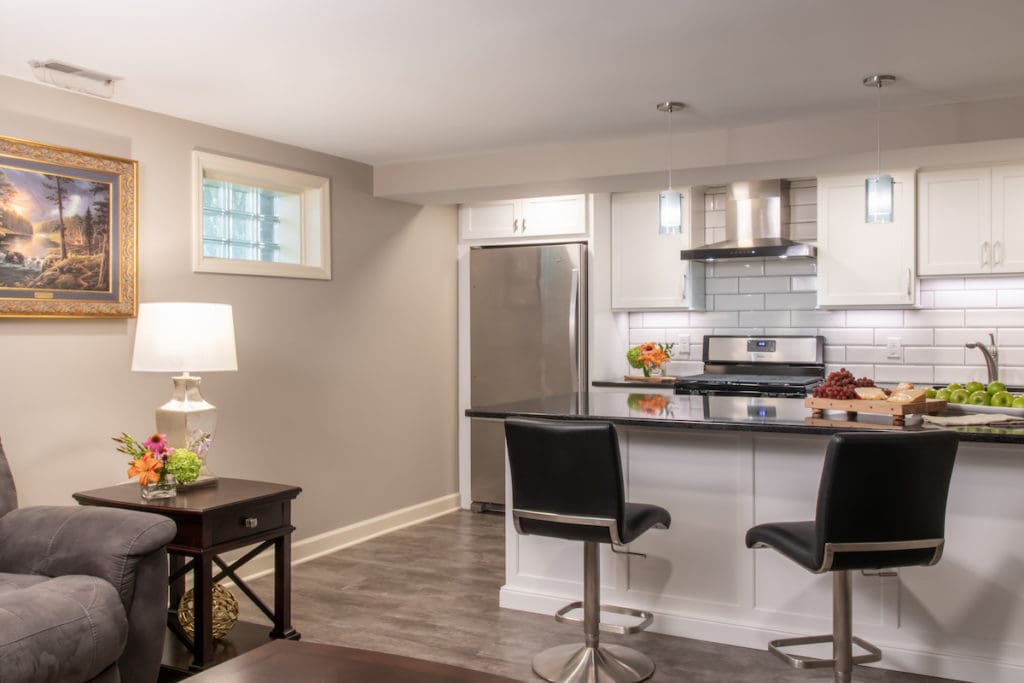 Our Creve Coeur clients contacted us with a desire to redesign and enlarge the footprint of their existing basement space to better serve their family and needs. Priority number one was to create an in-law's suite for their aging father, complete with a full-service kitchen, adjoining living space, bathroom and bedroom. The wish list for the owner's space was an entertainment haven – complete with a living space, focal point fireplace and bar, gaming area, bathroom, and state of the art theater. All finishes were an extension of their main level – sleek, modern, and tech forward.
"We had meetings with at least six other organizations, but once we met Keith and Jeanne, we stopped the search. They were as excited about our space and the challenge as we were. 
The final space perfectly met all of our expectations down to the last detail. The style feels cohesive throughout, open and connected, while maintaining that transitional charm and elegance that we enjoy in other areas of our home. With the beautiful sleek fireplace, entertaining area, the gorgeous bathroom and our theater with the entire house technological advancement and amenities, we finally feel like our lower level is part of our home.  And the best part is that our father can live here comfortably, privately and autonomously."
Find all project photos here.
Remodeling Project of the Year, Overall Redesign, $225-250,000 Budget:
Liston Design Build –St. Charles Addition
Our clients contacted us with a desire to update their 1860s historical home so that they could gracefully age in place. Their existing kitchen space was reconfigured and became the laundry room and bathroom while also adding a large walk-in-closet. The crammed side entry and stairway to the basement became a hallway with built-in cubbies and large pantry—a purposeful space! And best of all, the addition became a new, functional kitchen with new cabinetry, quartz countertops, and updated appliances including a focal point blue range and custom wood hood – functional, plenty of storage, modern, and up to date. This newly remodeled home is an eclectic blend of new and old with modern conveniences that improve their everyday lifestyle – a place to age in place and enjoy their home for years to come.
"In the end, Liston Design Build gave us a priceless gift: the transformation of our 150-year-old home into a newly reimagined space with more energy efficiency, better flow from room to room and state-of-the-art electrical, plumbing, HVAC and decorative surfaces. Our home is now a jewel that we will embrace for many years into the future."
Find all project photos here.