We're incredibly honored to once again be named a Home Builders Association of St. Louis and Eastern Missouri (HBA) winner for the fifth year in a row. Each year, the HBA honors excellence in the home building industry with awards given in three categories: Homes of the Year, Marketing & Advertising, and Personal Achievement. HBA members judge the entries, and winners are recognized as models of excellence in the home building industry. See below for details about this year's individual projects that won awards!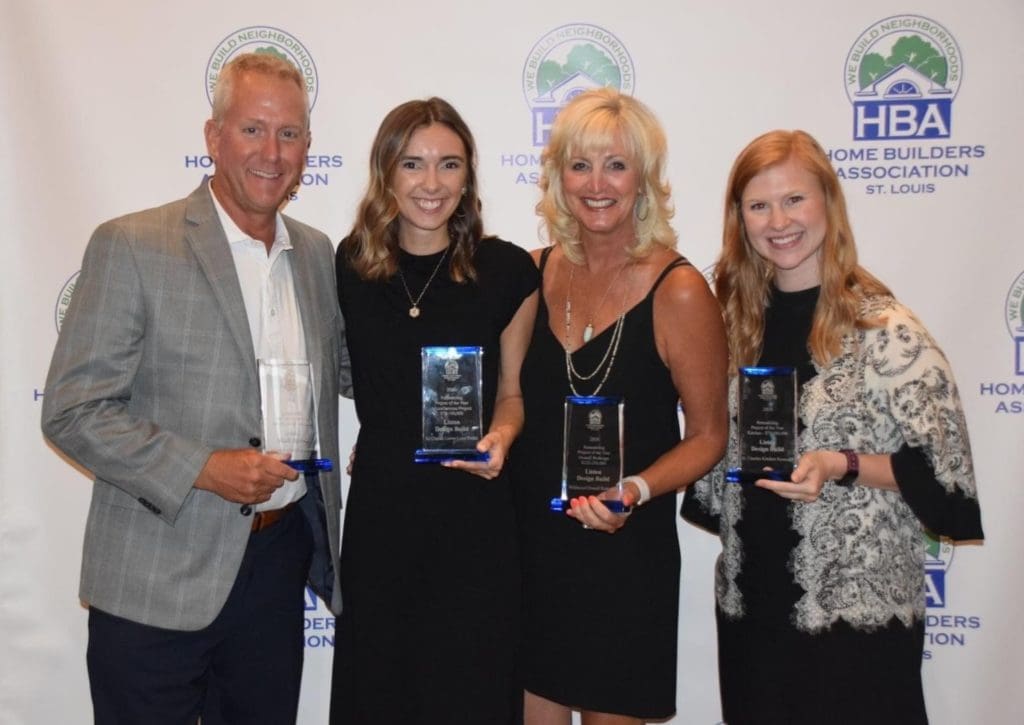 Remodeling Project of the Year, Kitchen, $75-$100,000 Budget: Liston Design Build – St. Charles Kitchen Remodel
We approached this remodeling project with the desire to update the physical space of the kitchen while staying true to the feel of the historical 1940s home. The beautiful heirloom butcher block served as a focal point and freed up counter space. We installed a more streamlined stove and refrigerator and an under-the-counter microwave in more effective locations within the space.
We removed the soffits and extended the cabinets all the way to the ceiling, which gave the kitchen a roomier, elongated feel and improved storage space. Our client loves to cook, so we worked together to choose a quality gas range with a glass hood that fit seamlessly into the room. The stainless steel of the refrigerator and stove combines well with the white subway tile backsplash, making the kitchen feel cohesive and bright.
"After watching Liston beautifully transform my neighbor's home, I decided it was time to accomplish my own dream kitchen design. Keith and Jeanne did an excellent job working with me to turn my freehand sketches and inspiration ideas I had into a reality."
See more of this award-winning kitchen here.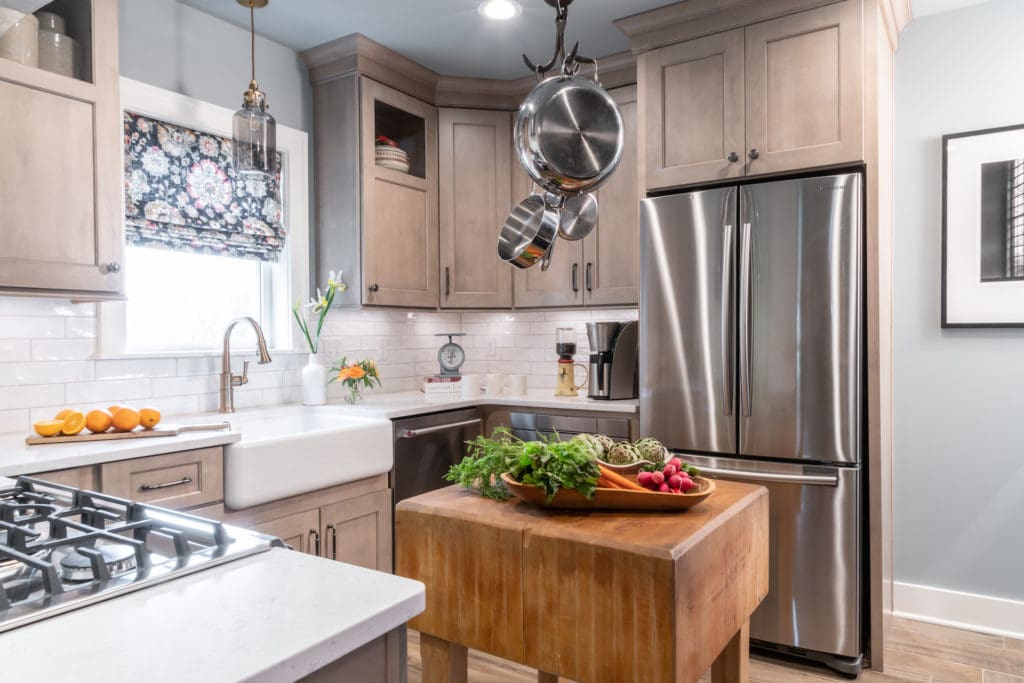 Remodeling Project of the Year, Miscellaneous Project, $75-$100,000 Budget: Liston Design Build – St. Charles Lower Level
Our clients needed a place where they could house guests overnight, exercise, and kick up their feet after a long day at work. The lower level we designed made space for those needs by adding a small bar with wine fridge, mini kitchenette, bathroom, workout space, and living area. A neutral wall paint for the walls and ceiling created the perfect canvas for darker cabinetry, furniture, and other features. We created a seamless transition between the lower level and the rest of the house that feels like a true extension of the upper living space. Our clients can now get more use out of their basement than before, making it an integral part of their home.
"In just weeks we watched Liston transform our dusty, concrete basement into a beautiful extension of the rest of our home. This is truly a space that feels cohesive, well-designed, and a part of a home we are proud to share with family and friends!"
See more of this project here.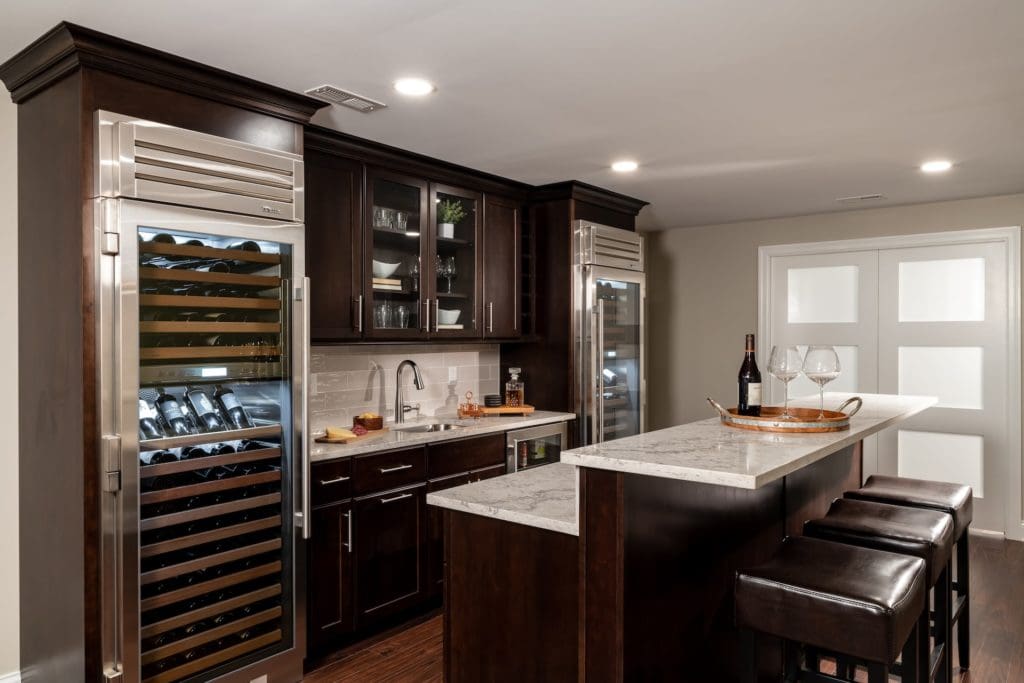 Remodeling Project of the Year, Overall Redesign, $225-$250,000 Budget: Liston Design Build – Wildwood
Our client's dream was to downsize, physically and visually, to create a cozier, personalized place that felt more like home. We worked together to move away from the existing color palette of browns and beiges to update this 90s era home into something modern and unique. Each room in the house was remodeled to follow a more striking black and white palette. From the black and white tile floor to a new cocktail room, we created a home that represented our client's needs and aesthetic.
"The communication, knowledge, and skill of Liston Design Build kept my home remodeling project on track and organized. Even with the unforeseen Covid restrictions, they were able to complete the project and safely bring my vision to life."
Browse this project here.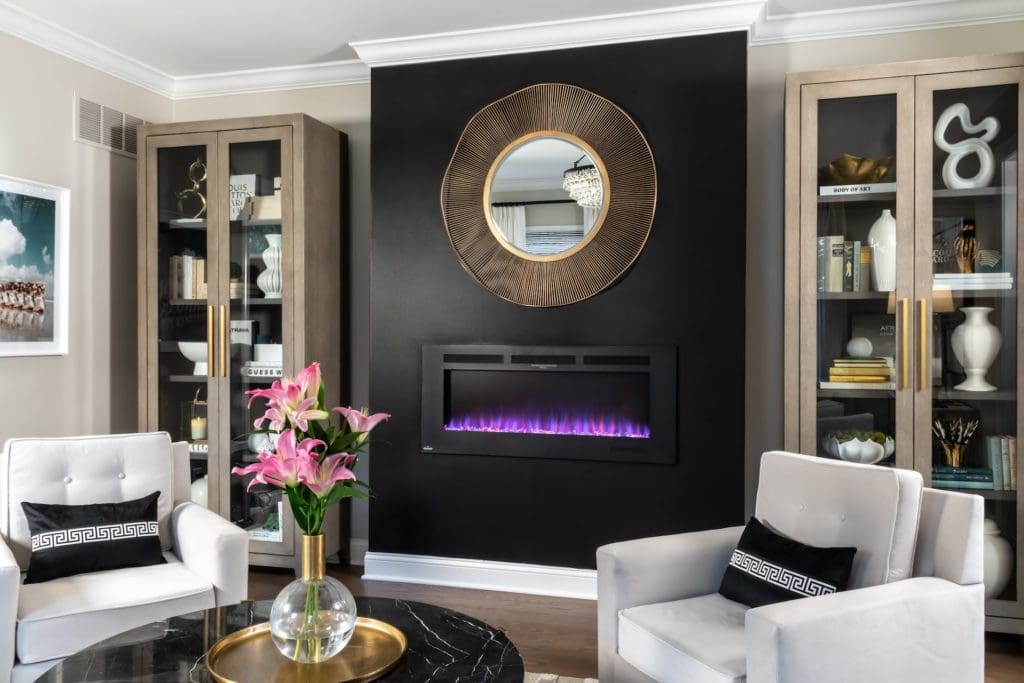 Remodeling Project of the Year, Kitchen, $100-$150,000 Budget: Liston Design Build – Kirkwood Kitchen Remodel
After self-remodeling the kitchen years ago, our clients decided to do it differently this time around. Our goals were to enhance the natural light in the room, expand sight lines, create a cleaner-looking aesthetic, and make a more effective cooking space. Key areas included remodeling a central island into a place for eating and updating the stove to a sleek Wolf range. The room is now more open—perfect for gathering and cooking.  Now this kitchen is a welcoming, expansive space the whole family can enjoy.
"From the initial walk through with Jeanne and Keith, to the 3D rendition of the new space, to the finishing touches, the Listons and their crew were always working with us in mind. We now have a cohesive, contemporary space that we all love!"
Find all project pictures here.