Remodeling Project of the Year Award at the 2017 St. Louis Home Builders Association (HBA) Sales, Marketing, & Construction Awards
As with many of our homeowners, these clients had a good vision of how they wanted their lower level to function and feel.  With an unfinished basement space that was full of scattered balls, toys and extra furniture, the owners desired an area they could truly enjoy.
"As our kids moved into their teens, we wanted to turn our foam-tile floored Nerf battleground basement into something more functional.  We wanted it to be an extension of our home, where both the kids would be comfortable hanging out with their friends and we would be able to entertain our friends."
The challenges with this project were similar to the challenges with most lower level finish projects— masking structural beams/columns, HVAC ductwork, and plumbing pipes. We opened up the stairs to the basement, added an exterior door for more natural light, added an exercise room, a full bath, a craft room, a large entertaining area that includes a direct vent fireplace, built-in cabinetry, a full entertainment bar with built-in wine storage, and a game area.
Finished Basement Remodel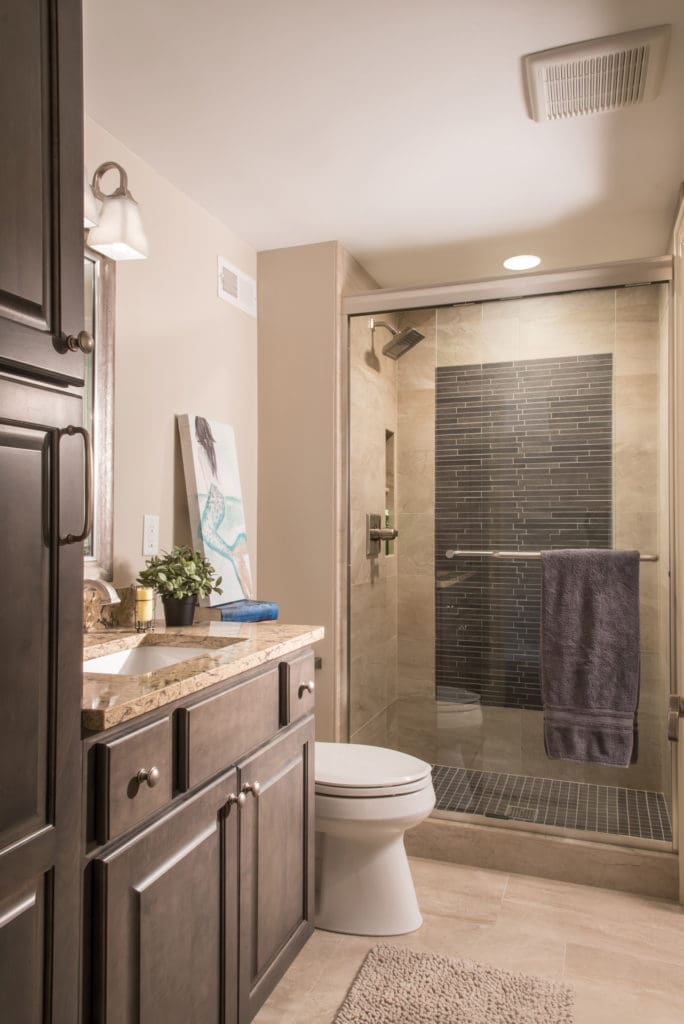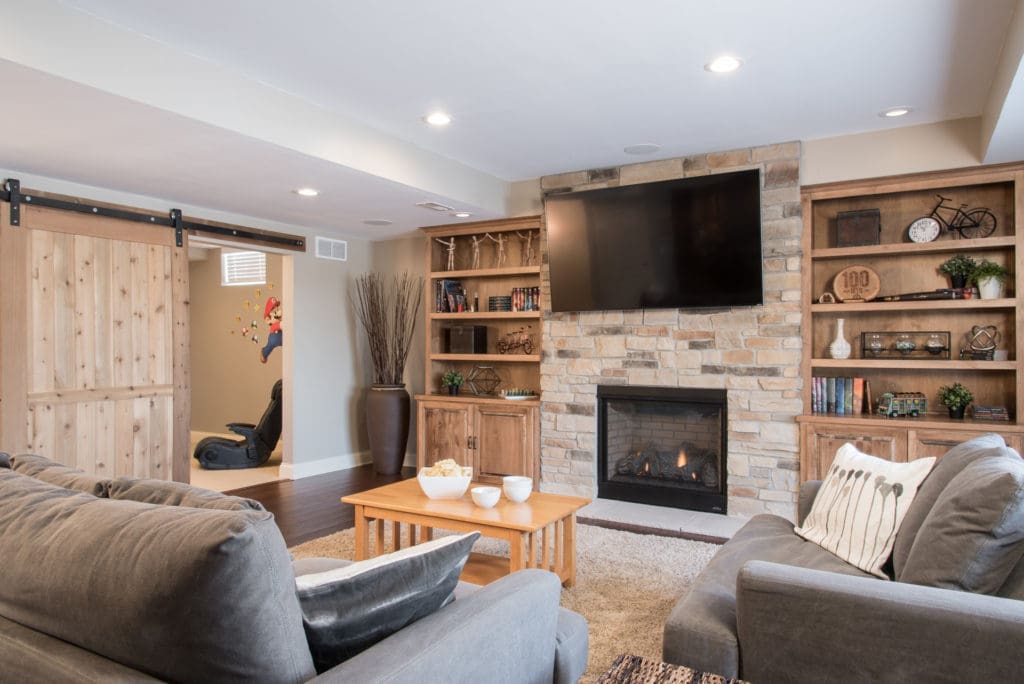 The "PLAY" wall art was a fantastic addition to the space.  All letters are individually hard-wired, but it adds levity to an already-fun space!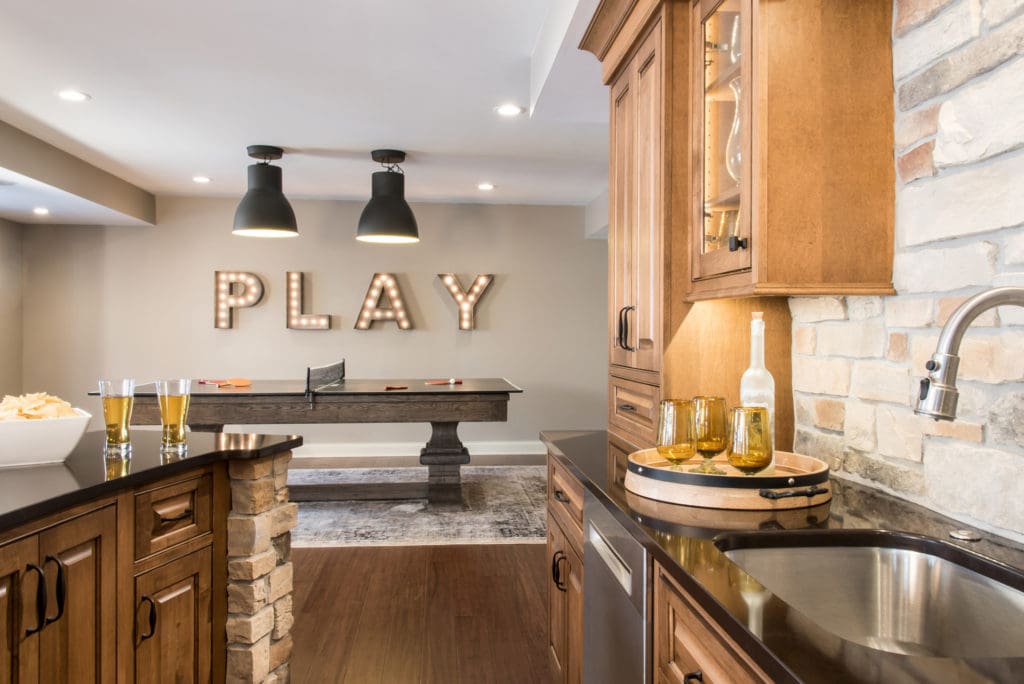 "From sleepovers to soccer parties to Super Bowl parties and occasional workouts in between – our new basement covers it all!  In fact, it is the favorite space in our house now, and where we usually hang out as a family to watch TV or play some ping pong.  And the kids pretty much live in the video game room…
From just a couple of inspirational pictures and ideas, the Liston team designed a space that is both functional and beautiful.  They guided us through the design and selection process, helping pull together colors and materials that created the style we were looking for.  They worked with us to get the shape and footprint of the bar just right and to minimize the disruption of all the basement ventilation and plumbing to the ceiling contour.  And they made the whole process so simple and painless.  They were organized and professional and finished the project on time and on budget.  We just can't say enough what a great experience this was!  The space turned out better than we ever could have imagined, and the Liston team made that possible!"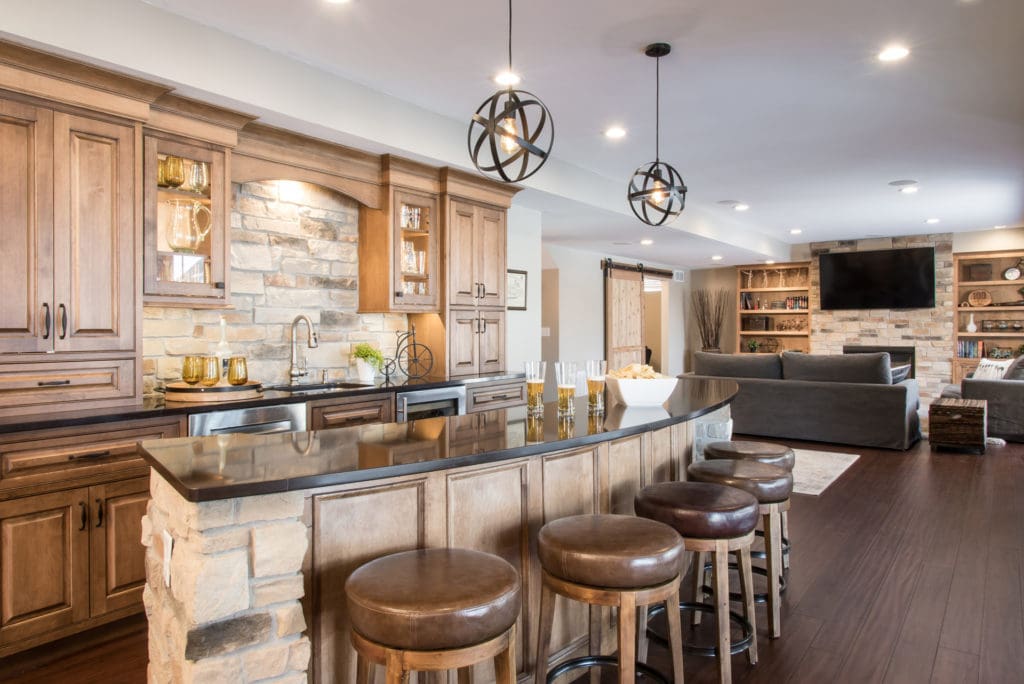 If you are interested in remodeling or finishing your basement, contact Liston Design Build at 636-940-9417 or email us.