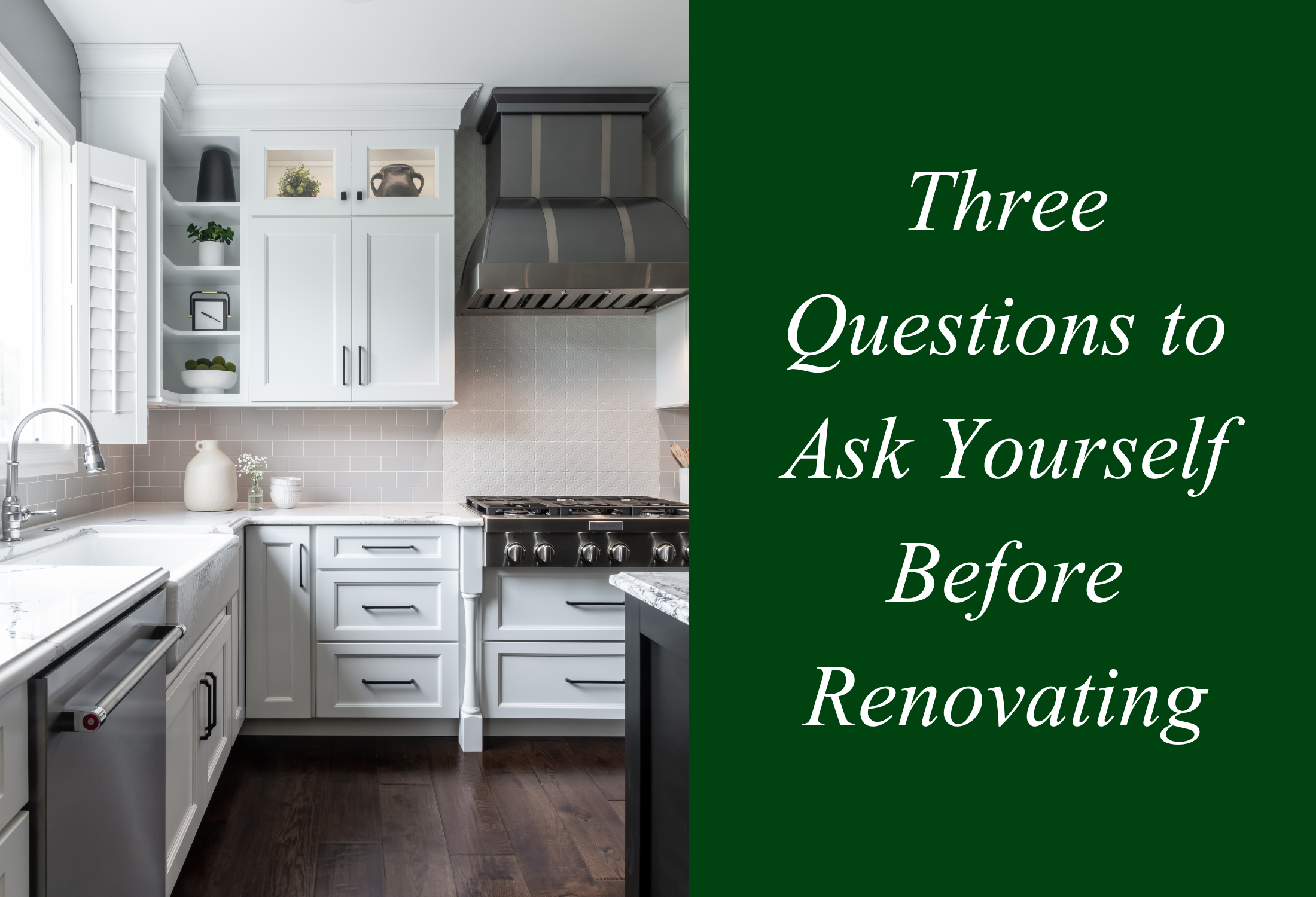 Whether you have been thinking about a remodel for years or are just beginning your research, there are a number of things to consider before you get started. Our team of experts at Liston Design Build are here to help you navigate the process every step of the way, from the initial planning phase to completion. 
To set yourself up for success, consider these important factors at the beginning of your renovation journey.
Home Renovation Questions
:
"What do I want this renovation to accomplish?"
Before starting a project, it's helpful to take a step back and look at the big picture. Simply asking yourself if your current space meets your needs can help inform your decisions and pinpoint what you are looking to improve.

For example: Maybe you love to cook, but your kitchen is outdated and cramped, zapping joy out of the process — or perhaps you frequently host guests, but lack a designated gathering area. Maybe you envision a bright, welcoming area to call home, and your needs are purely aesthetic.

Take note of what you like about your space and where there is room for improvement. Your design build team will further hone in on what will make your space spectacular during the discovery process. 
"What is my ideal remodeling experience?"
There are a number of remodeling companies you can choose from. Each brings a different method and customer experience to the table. Who you choose will impact your experience — both in the design and development of the project, and during the remodel process.
A contractor acting as a sole proprietor is often stretched thin. This could mean much of the legwork of selecting and buying materials will fall on you, and the project could have days of inactivity and delays. On the other hand, working with a boutique remodeling company, architect, or designer can result in less collaboration on the design direction and overall budget of your project, as they are wanting to put THEIR stamp on your home, not YOUR stamp on your home. 
When it comes to your home and your design vision, consider a professional remodeling company focused on delivering guidance in a collaborative environment. Working hand in hand with a design-build company accomplishes a strong sense of cohesiveness and robust relationship throughout the duration of your project — from the initial design to the last piece of cabinet hardware installed. Key points to look for? A master plan both parties agree on, a schedule you coordinate together, and open communication throughout the entire process. Look for a company who will assist you in bringing your vision to life, while offering advice based on industry insights and overall design and function goals that are fitting to your family. 
"What is my long-term vision for our home?"
The spaces we call home impact the way we feel. After all, our homes are where some of life's major events take place. As such, it's important to consider the long-term impact a renovation will have — both emotionally and financially. How your project will stand the test of time should be a major consideration, no matter if you plan to stay in your home or plan to sell when the time is right.
Lean on your design build team to help you look past dated trends and make recommendations that balance the long-term investment with your personal taste. Our experts will select classic colors, materials, and quality fixtures, to create a space that is truly timeless.
Liston Design Build: Your St. Louis Home Renovation Experts
The right renovation can make you fall in love with your home all over again. Our experts are here to help you simplify the process and have the best experience possible. Schedule a no-obligation consultation with Liston Design Build today and take the first step toward seeing your dream home come to life!